A Trip to New Zealand
(or, Chronicle of a Dream)
For Family and Friends, I'm providing a commentary on my visit to New Zealand, in the late winter of 2007. This is a trip that I've long anticipated, and finally, came to be a reality. Clicking on items of the menu below will allow you to jump through elements of the trip, including the day to day impressions and photos of the journey as they were added as I moved along. I hope you enjoy traveling with me!
MENU
Background
Always an interest of mine, the wonderful country of New Zealand features some of the most spectacular scenery to be found, and is noteworthy for its geologic history and consequent faunal development. In the annals of Continental Drift, today's New Zealand separated from Gondwanaland and its sibling plate, the present Australia, before mammals had made their way across the Antarctic and Australian plates as they separated from today's South America. Hence, New Zealand, uniquely among continental land masses today, lacked any form of land mammal fauna (except for a couple of bat species) until latter day introductions by humans. Aside from a few amphibian and reptilian quadrupeds, the only early post-Cretaceous colonizers of this set of islands were birds. Without mammalian predators, the early arriving birds evolved an extraordinary number of flightless forms, including the living species of Kiwis, and a spectacular assemblage of larger "Moas", all of which (the Moas) are today extinct. The surviving endemic flying birds include a number of unusual species, whose relationships with other birds of the world are not clear.

New Zealand, like Australia, is also known for an unique, but depauperate, freshwater fish fauna (about 35 species) that features a number of catadromous species (eels, geotriid lampreys, galaxiids, etc). The occupation of this unique environment by humans, and their numerous introductions of plants, fish, and mammals, has had enormous consequences for the endemic flora and fauna of New Zealand, and those consequences continue today. Even after many extinctions of birds, fish, reptiles, and plants, a large number of the surviving endemic species are endangered or threatened.
New Zealand's human history was first explained to me in a college course ("The Peoples and Problems of the Pacific") taught by Leopold Pospisil at Yale, about 1959. He argued for for a successive occupation of New Zealand by three waves of "invaders". The first of these arrivals from the Indonesian region are termed the "Moriori", and populated a New Zealand rich in the Moa flightless bird fauna. Some of the Moas, such as the Giant Moa, were ostrich-size birds, and these apparently were partially domesticated by the Morioris, who seemed to live an agrarian and peaceful lifestyle.

The next wave of immigration, beginning perhaps about 500 to 800 AD, also appears to have originated from today's Indonesia, and was constituted by a more aggressive culture, the Maori people. The Maori dispersal did not stop at New Zealand, but spread across the Pacific Islands, populating Fiji, the Society Islands, and ultimately the Sandwich Islands (Hawaii). It should be noted that a popular (in New Zealand) contemporary hypothesis is that the Moriori dispersal did not reach New Zealand proper, but was confined to the Chatham and other nearby islands to the south and east. This alternative idea has the Maori people traveling across the Pacific to the Society and Sandwich Islands from Indonesia, and only later "hooking back" to populate New Zealand.
In Pospisil's view, the outcome of the occupation of New Zealand by the Maoris was the extermination of the earlier Moriori settlers, followed by the extermination of the larger flightless land birds, particularly the Moas. That extermination of the Moas was complete by early 1700s, the remains of these birds are well known today from subfossil specimens.
A vivid story told by Professor Pospisil in this course was one that relates to one of my present interests--the whaling history of New Bedford. According to him, about 1830 or so, a whaling ship stopped for water, wood, and fresh food in the Chatham Islands. The Chatham Islands lie about 600 kilometers southeast of New Zealand--and today are part of the nation of New Zealand. The island apparently was populated, at that time, by peoples who were surviving remnants of the earlier Moriori immigration that had escaped the notice of the Maori wave of immigration.
On board the whaling ship were several Maori crew members, signed on the crew during an earlier visit to New Zealand. Recognizing the Chatham Island Morioris as their ancestral enemies, these crew members waited for the whaler to return to New Zealand, then deserted to alert their elders about the presence of Morioris on the Chathams. A war party was gathered, and the Maori tribesman sailed and paddled their open canoes the 600 kilometers and then systematically slaughtered the Morioris. Whether true or not (see http://history-nz.org/moriori.html for a somewhat different historical account), the tale has a certain pizazz to it!
Of greater certainty is the arrival of the third wave of immigration to New Zealand, the Europeans (Pākehā in Maori), who, led by Abel Tasman's discovery of New Zealand about 1642, and James Cook's first visit there in 1759, populated the country, mainly after bitter fighting between French and English colonists and the Maori tribes. The overt strife ended with a treaty about 1840 (see http://history-nz.org/ ). The resulting English subjugation of the country caused immense changes to the bioscape. These involved reducing the native Maoris to second class citizenship, introduction of domestic animals (sheep, cats, dogs, cattle), game birds (pheasants, quail, ducks, partridge), game animals (red deer, Himalayan Taur), fish (trout, salmon), vermin (rats, rabbits, mice, stoats, Australian Possums) and many new plants and trees (conifers, grains, grasses, etc). The native forests were cut down, (replacing them with non-indigenous trees), thus destroying the habitat for the native birds, and new predators were introduced that many members of the endemic fauna (mainly birds and fish) were ill equipped to handle. Thus the number of extinctions recorded in the last few hundred years is large (almost 50 species of birds - http://en.wikipedia.org/wiki/List_of_New_Zealand_birds ), and the number of endemic species that are endangered or threatened remains high today.
In my reading about New Zealand, I've been attracted by the writings of New Zealand scientists who study the sharks that are of my especial research interests, as well as reading about the affinities of the New Zealand fauna (particularly the sea birds) to that of the sub-Antarctic islands and mainland Antarctic about which I've studied and written.
The allure of New Zealand to me, then, has always been great. This year, having gained a windfall of sorts from my antique tool business, I am now able to travel to New Zealand, and see this wonderful land for myself. This web page is being written as a chronicle of my trip.
Planning
Early November of 2006 began the first fairly serious planning for my New Zealand odyssey. The first stop, of course, was Google, where the top hit was the New Zealand office of tourism's website - http://www.newzealand.com/travel/northamerica/ . There is a lot of basic information here, including maps and descriptions of the various regions of the country. New Zealand is comprised by two main islands--North and South--along with some far flung smaller island groups, including the Chatham and Auckland Islands. Altogether the country is about the size of Colorado in terms of land area, and is host to about 4 million inhabitants. It sits in the South Pacific Ocean, with the Tasman Sea to its west. The North Island rubs against the 180th meridian, and in terms of latitude it stretches from about 35 degrees South, to about below 45 degrees South. New Zealand is astride the junction of two tectonic plates, and earthquakes and volcanic activity are not uncommon. The North Island, in particular, is host to geothermal regions with hot springs and geysers regular features. The New Jersey-shaped South Island has been more orogenic and sports a cordillera on its western side, with fairly broad outwash plains on the east. The southwest corner (Southland) of the South Island is broken into a spectacular set of fjords.
The climate of the North Island is more subtropical, with wonderful beaches, island chains, more recent volcanism, and a South Pacific "feel" to it. The South Island is more rugged, with lots of mountains and a rockier coast. Its climate is colder and wetter than in the north, clearly more temperate in character. The south also experiences more earthquake activity in the present era.
In the North are the principal cities of Auckland (host to the main international airport) and Wellington, the capital city. The South island's major cities include Dunedin and Christchurch (the largest in the South), both of which are on the eastern side and lie at the bases of peninsulas that jut into the Pacific where they serve as hosts to a lot of interesting birds, fishes, and marine mammals. The most southern tip of the South Island leads to Stewart Island (New Zealand's "third island"), where much of the original New Zealand flora and fauna persist, and with a hint of the sub-Antarctic fauna to the south.
My appeal is more to the South than the North. Its more rugged topography, colder climate, and array of sea birds, fish, and marine mammals calls to me. So I quickly decided that, if I had only 3 weeks to spend in New Zealand, I'd prefer to spend them in the south. As for organized tours (there are plenty), my feelings were that I didn't want to be held "captive" to a plan, and would prefer to see some places the tours don't touch, as well as have the freedom to alter my plans if the unexpected arose. The possibility of renting a car, and "self-drive" through the country really appealed.
The downside of this option would be the daily challenge of finding accommodation as I moved through the country. Twenty years ago that would have been an option, but now the daily anxiety of "where will I bunk" tomorrow is not welcome. So, using the New Zealand tourism website as a base, I contacted a number of travel agencies that specialized in setting up trips to New Zealand. Most that were contacted seemed eager to work with me in establishing a route, and suggesting things to see along the way. My list of places to visit had some definite "must sees". These included Westport, the glacier region of Franz Josef and Haast, Stewart Island at the far southern tip of the South Island, whale watching at Kaikoura, Dunedin and the Otago Peninsula to see breeding albatrosses, and Christchurch.

In early November, after several emails back and forth with travel agents, it quickly became clear that one of the most sympathetic, knowledgeable, and responsive people was Anne Wellnitz (awellnitz@downunderendeavours.com) of Down Under Endeavours (http://www.downunderendeavours.com/map_nz.php ), an Australian travel agency with American offices in Chicago. Deciding to go with Anne as a planning guide and facilitator, it wasn't long (by Thanksgiving) that my trip was pretty well roughed out. And in early December the trip was squared away, with plane, rental car, hotel reservations, and some special tours booked. Also there was plenty of free time to explore on my own, and except for six days of accommodations packaged with meals, to eat where and when I liked. Anne suggested things that really appealed to me (Stewart Island Lodge with some outstanding tours, Lake Moeraki wilderness lodge, overnight cruise to Doubtful Sound in the fjord region, and a tour of the Otago Peninsula).
What was left to me was booking flights to Los Angeles and return, and filling my otherwise empty days days in New Zealand. No Problem. The final trip looks like this.
Feb 20 - The Trip Out
February 2007
Tues 20 Providence to Newark, NJ. Continental AL # 2936
8:30 AM to 9:40 AM
Tues 20 Newark, NJ to Los Angeles Calif. Cont. AL # 17
1:20 PM to 4:29 PM
Tues-Thur. 20-22 Los Angeles to Auckland, New Zealand Qantas QF 26
8:30 PM to 6:00 AM

Thursday 22 Arrive Auckland
The trip out was a long one, but with no real disasters. Barb and Melissa drove me to Providence Airport, and the plane to Newark was on time. Coming into Newark, it was apparent the the New Jersey Turnpike was not the place to be--it was a parking lot of huge trucks. Glad to have flown!
The Continental flight to Los Angeles was packed full, and was delayed almost an hour at takeoff. The pilot made up the time, however, and it landed just about right on time. There was no trouble getting to the international terminal and finding the Qantas counter. Not much delay here, either, although again the plane was full to the brim and a little late getting underway. The 12 hour flight was a little rough, but the folks sitting around our section were pleasant. I even got a few hours of sleep. Qantas does a good job. Lots of freebees, everything for your comfort, and doesn't charge for drinks. Again, we landed right on time in a somewhat warm 75F Auckland, with the humidity on the high side. The GPS unit tells me that the total mileage for the trip, straight line from our front door to the airport is 8976.9 miles. It took 30 hours of travel--still a pretty good average speed!
Day by Day
Day 1 - 2: Feb 22 & 23, 2007
06:00 Flight QF26 Arrives
Meet 'n greet by Down Under Endeavours Representative. Document exchange and private transfer to the hotel
15:00 Room check in
( early check in requested but not guaranteed )
Accommodation: Scenic Circle Airedale Hotel
380 Queen Street
Auckland
Telephone : 64 – 9 – 374 1741
Fax : 64 – 9 – 374 1740

2 nights : Room Only
Counting the time zones, and ground connections the actual trip time works out to something more than 28 hours--yet I land in Auckland two days after taking off from Providence. That extra day (Feb 21, 2007) is lost upon crossing the international date line (the 180th meridian) shortly before landing in New Zealand--never to be recovered.
Auckland, New Zealand's largest city is reputed to be a vibrant, interesting place (http://www.aucklandnz.com/ ). Its urban region includes 1.2 million people (more than 25% of the total population of New Zealand) spread out over more than 400 square miles. The main city area is located on an isthmus with close access to water on both sides. The opportunity for water sports is great, and Auckland is sometimes called, "The City of Sails." (http://en.wikipedia.org/wiki/Auckland).
On my second day, I've decided to grasp the opportunity to explore the island-rich Hauraki Gulf, and have booked a trip to the island of Tiritiri Matangi, which is maintained by the New Zealand Dept. of Conservation as a predator-free oasis of endemic plant and animal species. Here numbers of New Zealand's rare and endangered bird and reptilian species are maintained. Noteworthy is the large (3 kg) flightless bird, the Takahe, which is an extremely rare creature, as well as introduced and relict Tuatara (Sphenodon punctatus), a rhyncocephalian reptile found nowhere else in the world. The trip takes 1 1/2 hours from Auckland, and will surely provide a great introduction to the bird life and islands of this volcanically rich area.
Here is a report of day 1 Auckland (36o 51.164' S; 174o 45.895' E; Elevation = 42')
My first impressions of Auckland were that it has a pretty vibrant center city section. The streets are flooded with people, cars and buses. Lots of pretty young girls, a just about everyone, sans the tourists, are well dressed. My hotel is right on the main drag (Queen St), a few blocks above the harbor. Right across the street is the old City Hall, that doubles as a concert hall for the Auckland Chorus, among other performing groups.


The folks in Auckland even staged a demonstration of striking union workers for my pleasure!
The signature Sky Tower of the town is just two or three blocks away. The waterfront is active with local cruise boats, ocean-going cruise liners, and lots of people milling around. There are many restaurants, here, and I had a nice lunch in a fairly elegant Japanese one, with some sashimi and grilled eel over rice. It was good.
With a little time to kill, I made a quick trip through the Auckland Maritime Museum. It was interesting--especially the material and information about Maori war canoes, Captain Cook's visits to New Zealand, and some of the information they had about the whaling days. They had a very nice film of the actual killing of a right whale from shore based boats, using exploding harpoons. It was interesting.
On my second day in Auckland I decided to take a trip across the Hauraki Gulf to the island of Tiritiri Matangi, which is a predator-free island, maintained by the Department of Conservation as a preserve for endangered New Zealand endemic birds and lizards.
Day 3: Feb 24, 2007
Saturday 24 Auckland – Nelson Flight NZ8375T 0855/1015hrs
10:15 Flight NZ8375T arrives Nelson
Pick up rental car at the airport – Budget Rent a Car
Self drive to the hotel
Accommodation: The Rutherford – A Heritage Hotel
Trafalgar Square
Nelson
Telephone : 64 – 3 – 548 2299
Fax : 64 – 3 – 546 3003
The flight to Nelson should be a scenic one. The driving distance from Auckland is about 550 miles, taking about 12 hours, plus a 3 1/2 hour ferry ride across the Cook Straits to the South Island. But, by plane the travel time is only 1 1/2 hours. If the weather is nice there should be some good views of the western coast of the North Island, as well as the Cook Strait. After picking up my rental car, I'll find the hotel, and then nose around Nelson. Or, it might be a pleasant afternoon to drive out to the Abel Tasman National Park to walk and sight see. At any rate, I look forward to exploring the Nelson waterfront and restaurants.
The trip from Auckland to Nelson was in a small turboprop plane and lasted about 1 1/4 hours. After takeoff, the plane headed Southeast, passing over flat farmland given to truck crops and hay, and then approached the coastline of the Tasman Sea. This section had a rougher topography just behind the shoreline, and appeared to be quite dune-like, covered with brownish grass. The surf looked great for the folks with surf boards.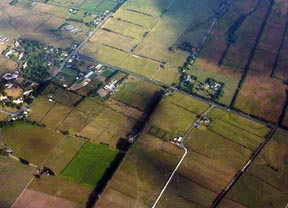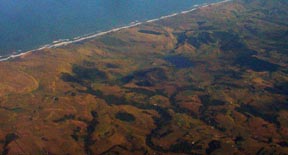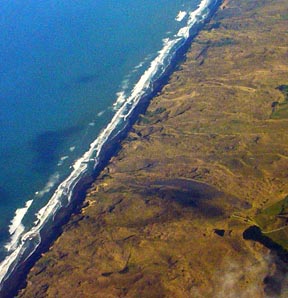 The plane's track then crossed the projecting Taranaki peninsula of the southern part of the North Island, and flew over the dominant feature of Mt. Taranaki, an extinct volcano that rises more than 2500 meters. As you can see, it has a quite symmetrical cone, with a visible crater.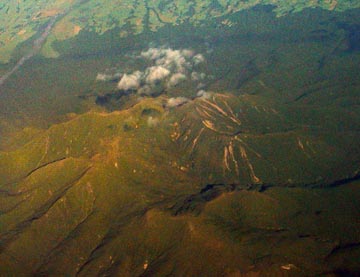 Leaving Mt. Taranaki behind the track moved out across South Taranaki Bight of the Tasman Sea, heading for Nelson. The water here appeared extremely rough, and I had the sense that there was a wind from the west really pushing against a west-heading current.
As we approached Nelson, it was possible to make out the outline of Farewell Spit, a hook-shaped shallow sand bar that stretches east from Cape Farewell. This long sliver of sand is a mecca for bird watchers, as it is populated in the New Zealand summer by huge numbers of wading birds and shore birds that have migrated south from the Arctic. It also is a regular site of whale strandings--particularly Pilot Whales and Sperm Whales.
The landing at Nelson was smooth, and in a short while I had possession of my rental car, and was pulling out of an airport that was much less busy than Kennedy! The hills abutting the airport are clearly in management for timber production, and are patchworks of clear-cut, juvenile, and mature timber stands.

After nursing the car along the "wrong" side of the road into the town of Nelson, I found my hotel--The Rutherford--in the city center. It was easy to find, as at about 9 stories high, it is clearly the tallest building in town.
Just across the street from the hotel is a steep hill that is planted to legions of flowers, and many specimens of large trees, including hoop pines, cabbage palms, and a good sized California Redwood. The hill is capped by a cathedral with a bell tower holding a chime.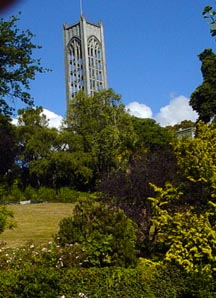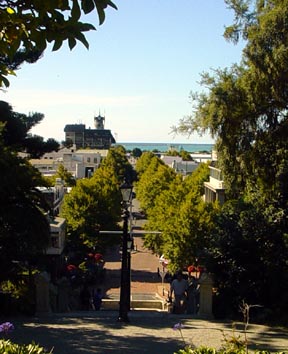 The view from the cathedral looks out over the town of Nelson to the Tasman Bay. It is quite nice.
With plenty of time to look around, I drove east of the city to the base of a remarkable formation known as "Boulder Bank." This bank of huge rounded cobbles stretches for several miles, and encloses a large, very sheltered and shallow bay, that was the reason the town of Nelson is located where it is. The process of the formation of the boulder bank is not clear to me. It is not a man-made structure, and its origins is discussed in some Maori legends. The access to the bank is close to its eastern end, and the pictures below show it from looking west to north to east.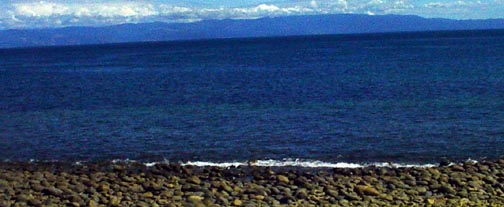 The distant hills in the center picture comprise the Abel Tasman Park.
Back in Nelson, I visited an open air Saturday market, which was quite festive, with lots of really nice vegetables and fruits, along with some quality craft items, and many other things. I bought a bag of Biltong (dried beef) for lunch, and had a nice chat with a gent selling old hand tools. I almost bought a very nice Disston boxwood mortise gage, but decided it would be foolish to lug it back halfway around the world! Finally, the day ended with a trip to the local historical museum, which turned out to be very informative and interesting about the farming, mining, and manufacturing history of Nelson and the surrounding region.
After a good meal of New Zealand Green Lip Mussels, and some fish and chips, I expect to get a good night's sleep before moving on to Kaikoura in the morning.
Days 4 . Nelson to Kaikoura
Sunday 25 Nelson – Kaikoura

Self drive to Kaikoura
Accommodation: Kaikoura Gateway Motor Lodge
16 – 18 Churchill Street
Kaikoura
Telephone : 64 – 3 – 319 6070
Fax : 64 – 3 – 319 7080
The drive to Kaikoura from Nelson is about 170 miles, with an estimated drive time of about 4 hours. The route goes through the Marlborough Sound area and the town of Blenheim. This is the center of New Zealand's most famous wine producing region. I'll stop to sample a bit at lunch time. The rest of the trip south from Blenheim borders the South Pacific along the eastern side of the South Island, with mountain ranges to the west. It should be spectacular. Kaikoura is the site of New Zealand's most famous land-based whaling venture in the mid 1800s, and today is known for its whale watch trips that predictably encounter sperm whales. This is one of the very few places in the world where sperm whales can be observed close to shore (the Azore Islands is another). Kaikoura is also a fishing center for ocean fishing, and is known for its crayfish (rock lobster--Panulirus). I definitely plan to sample the food here! If the arrival is early enough I might book an afternoon birding trip for pelagic birds, or a short ocean fishing trip.


Day 6 - Kaikoura to Westport
The drive to Westport, on the opposite coast from Kaikoura is about 207 miles and takes nearly 5 hours. The route crosses the mountainous spine of the South Island, going through the Lewis Pass.
It might be fun to break the trip up, with a stop in Lewis Pass for a dip in the hot spring pools there.
Westport, however, is a primary designation for this trip, owing to its status as a sister town of our own Westport, Mass, and the fact that it is off the beaten tourism track in the South Island. Westport has about a third of the population of our own Westport (~6,000 vs ~15,000), and sits at the mouth of the Buller River, one of the largest of the west coast rivers draining to the Tasman Sea. Historically, Westport gained a foothold as a Gold Rush city in the 1860s, and then morphed into a coal mining center--particularly involved as a port from which the region's coal was (and is) shipped.
Tuesday 27 Kaikoura – Westport

Self drive to Westport
Accommodation: Westport Motor Lodge
207 Palmerston Street
Westport
Telephone : 64 – 3 – 789 7889
Fax : 64 – 3 – 789 7885

Wednesday 28 At Westport
A dominant feature of the town is its location near the mouth of the Buller River. Today the Buller River is the site of interesting white water rafting trips. And I've booked a trip with Buller Adventure Tours. The river is named after Sir Walter Lawry Buller (1838 -1906), who was New Zealand's most prominent ornithologist. Buller led an interesting, and somewhat suspect life. His biographical sketch is worth reading.
Days 7 & 8 Westport to Lake Moeraki
The longest drive of the trip, I drove down the west coast, through the town of Franz Joseph, which is a jumping off point for visits to the glaciers in these mountains. The trip will cover about 390 km, and take 5 1/2 hours. If I can leave early enough from Westport, I hope to stop near Franz Joseph for a glimpse of the glaciers, particularly the larger, less frequently visited Fox Glacier.
But the real attraction is Lake Moeraki, which lies in a temperate rain forest near the coast, about 20 miles north of the town of Haast.
Thursday March, 01 Westport – Lake Moeraki

Self drive to Lake Moeraki
Accommodation: Wilderness Lodge Lake Moeraki
State Highway 6 ( 30kms North of Haast )
Westland
Telephone : 64 – 3 – 750 0881
Fax : 64 – 3 – 750 0882
Single : Rainforest Lodge Room
2 nights : Dinner bed and breakfast
Dinner at the lodge
Friday 02 At Lake Moeraki

Breakfast and Dinner at the lodge
Day at leisure – join in eco tours
In my two days here, I'm looking forward to the hiking tours, emphasizing bird watching and trips to coast. I may also get a chance to do some trout fishing. The setting seems ideal, and this is one stop where I don't have to worry about meals! I'll be sure to file a detailed report on this!
Report:
Drive from Westport to Lake Moeraki. Click HERE
At Lake Moeraki, Day 9 Click HERE
Days 9 & 10. Lake Moeraki to Queenstown
Being nestled among mountains amid lots of lakes, Queenstown will be my first (and only stop) away from the coast line. Due to its scenic splendors, this region has built quite a reputation as a tourist mecca, and a place for all sorts of activities.
The drive here from Lake Moeraki will be a scenic 180 miles, taking about four hours. I'll hope to stop at any interesting looking spot on the way. The two nights that I stay here will give me some time to explore the varied opportunities that present themselves!
Saturday 03 Lake Moeraki – Queenstown

Breakfast at the lodge
Self drive to Queenstown 290kms direct
Accommodation: Mercure Resort Queenstown
Sainsbury Road, Fernhill
Queenstown
Telephone : 64 – 3 – 442 6600
Fax : 64 – 3 – 442 7354

2 nights : Room Only
To see the account of the drive to Queenstown, click Here
Sunday 04 At Queenstown
With a full day ahead in the Queenstown region, with nothing planned in particular, I decided to look into the possibilities of doing some trout fishing--a sport that New Zealand is famous for. Luckily I was able to book a full day of fishing with a respected guide, Harvey Maguire, who is quite a musician and has worked in fishery biology in Otago for a number of years. Harvey has a great little website, that is worth looking at. Turn up the volume on your computer, so you can hear his piano!
To see the account of trout fishing in Queenstown, click Here
Day 11 - Queenstown to Doubtful Sound.
This leg of the trip is a fairly short drive (110 miles - 2 1/2 hours) from Queenstown to Manapouri (not far from Te Anau), where I'm to depart on a Doubtful Sound overnight cruise excursion at noon. This will involve a cruise across Lake Manapouri, then a bus "portage" into the fjord region of southwest New Zealand for an overnight cruise through the Doubtful Sound system.
Monday 05 Queenstown – Doubtful Sound
Self drive to Manapouri 180kms direct
12:10 check in closes
12:30 Doubtful Sound Overnight cruise excursion departs Pearl Harbour
launch cruise acre Lake Manapouri
motorcoach travel across Wilmott Pass
Embark Fiordland Navigator
Accommodation: Remote Location
"Fiordland Navigator"
Quad Share Cabin
1 night , Dinner bed and breakfast
Buffet Dinner on board
http://www.realjourneys.co.nz
This should be a fun trip, with lots of scenic beauty, wildlife to see, kayaking, etc. I'm looking forward to it.
Days 12 - 15 Doubtful Sound to Stewart Island
Another much anticipated feature of my trip will be three days spent on Stewart Island, off the southernmost tip of the South Island. The "third island" of New Zealand, its location and relative remoteness has allowed more native flora and fauna to survive here than just about any other place on mainland New Zealand. Much of my stay will be focused on seeing the birds and ocean life of this place--which can be touched by more southern fauna from the Antarctic region.
The trip from Manapouri to Invercargill will be about 100 miles, taking 2 1/2 hours. Invercargill is the jumping off place for a short flight across Foveaux Strait to the Halfmoon Bay region of Stewart Island. I'll leave my rental car at the airport. If I'm early enough and have some time to spare before boarding the flight, I hope to drive to the coast to the town of Bluff. Bluff is famous for its oysters, having an unique edible oyster, Tiostrea lutarea, favored by epicures throughout New Zealand..
Tuesday 06 Doubtful Sound – Stewart Island
Breakfast on board
Retrace journey back to Manapouri
12:30 Excursion ends in Manapouri
Self drive to Invercargil Airport 150kms direct
16:30 Check in closes
17:00 Stewart Island Flights flight departs
17:20 Arrive Stewart Island Airstrip
Met by lodge host and
transfer to accommodation
Accommodation: Stewart Island Lodge
14 Nichol Road
Halfmoon Bay
Telephone : 64 – 3 – 219 1085
Fax : 64 – 3 – 219 1085
3 nights : Dinner bed and breakfast
Dinner at the lodge
20:30 Approx ( 30 mins before dark ) Pick up by local guide
Ruggedy Range - Eco Watch bird spotting guided walk
Wednesday 07 At Stewart Island

Breakfast at the lodge
Make own way to Golden Bay Wharf
08:20 Day excursion to Ulva Island –
Includes Guide, water taxi transfers and packed lunch
16:30 Approx return to the wharf
Thursday 08 At Stewart Island

Breakfast and dinner at the lodge
Day at leisure – Optional extra local Half Moon Bay optional sightseeing
I'm excited about some of the planned trips, including a crepuscular trip for spotting Kiwis and other birds, and the excursion to Ulva Island provide opportunities to see birds and plant life hard to find elsewhere. All told, the time on Stewart Island should all me plenty of opportunities for hiking and bird watching. This may be one spot on the trip where internet access is limited, so my reports may be delayed until getting back to the South Island.
Days 16 - 17. Stewart Island to Dunedin.
Friday 09 Stewart Island – Dunedin
Breakfast at the lodge
Host transfer to Stewart
Island Airstrip
08:30 Stewart Island Flights –
flight departs
08:50 Arrive Invercargill
Self drive to Dunedin
220kms direct or
260kms via Catlins ( note sections of road unsealed )
After flying from Stewart Island back to Invercargill on Friday morning, I'll reclaim my rental car and take the three hour (130 mile) drive to Dunedin. Rather than taking the well traveled Rte 1 to Dunedin, I'm planning to take the route along the coast through an area rich in natural history, known as the Catlins. Here I'll probably find lots of birds and marine mammals, as well as great scenery. In particular I'm looking forward to seeing Curio Bay. This is known for the remains of a fossilized Jurassic tree fern forest that can be seen at low tide. On this day low tide is forecast for about noon. So I should just about hit it right..
Dunedin is one of the older cities in New Zealand, and with a population today of about 115,000 people, is the fourth or fifth largest New Zealand city. The city and was originally populated by Scots is reputed to have a Scottish "feel" to it, and is home to Otago University. The city sits at the base of the Otago Peninsula that juts out into the South Pacific and plays host to a wonderful assemblage of birds and marine mammals.
Accommodation: Mercure Hotel Dunedin
310 Princes Street
Dunedin
Telephone : 64 – 3 – 477 1145
Fax : 64 – 3 – 477 1118
2 nights : Room Only
After checking the city out on the day of my arrival, I'll look forward to Saturday, and participating in planned tours to the Otago Peninsula to see the Royal Albatross and Penguin colonies there. Just as New Zealand is unique for the ability to see Sperm Whales close to shore, it also is the only place in the world where breeding albatrosses are accessible. Having read and studied about albatrosses and other large petrels for my Antarctic book, I'm excited about this part of the trip.
Saturday 10 At Dunedin

09:00 Pick up by Monarch Wildlife Tours
Otago Peninsula Day Tour # 3M incls
Minivan transfers, guide
Visits to Marine Studies Centre
Royal Albatross Colony
Penguin Place
1 Hour Wildlife cruise on MV Monarch from Weller's Rock
Optional return to Dunedin by road or on board MV Monarch
19:00 Approx drop off
After a full day on the tour, I'm sure that I'll have lots to report here.
Days 18 - 19. Dunedin to Christchurch.
Today I'll have most of the time free, until the late afternoon when I move on to Christchurch. So there should be plenty of time to drive about the area, taking in the local attractions and scenery. Because the journey to Christchurch is a fairly lengthy one (230 miles, 5 1/2 hours by car), I'm scheduled to turn in the rental car, and fly to Christchurch
Sunday 11 Dunedin – Christchurch

Self drive to Dunedin Airport 45kms direct
16:00 Drop off rental car at the airport
NZ5368T 11MAR DUD – CHC 455P 550P *
16:55 Flight NZ5368 departs
17:50 Arrive Christchurch 5:50 P
TRANSFER OWN ARRANGEMENTS to hotel

Accommodation: Copthorne Central Christchurch
776 Colombo Street
Christchurch
Telephone : 64 – 3 – 379 5880
Fax : 64 – 3 – 365 4806
2 nights : Room Only
Monday 12 At Christchurch-

Day own arrangements
Just as Dunedin sits at the base of the Otago Peninsula, the city of Christchurch is positioned at the base of another peninsula, the Banks Peninsula, that projects into the South Pacific. Christchurch is the South Island's largest city, with a population of about 350,000. The city has a number of science-related features that interest me.
Canterbury University, originally located in the city (it has moved to the suburbs) was the alma mater of the Nobel Prize winner, Ernest Rutherford. Rutherford, later in life, was director of the Cavendish Laboratory at Cambridge (England) University when my father was a doctoral student there. I hope to visit the site ("Rutherford's Den") where Rutherford conducted his early experiments.
Christchurch also has many ties to early Antarctic Exploration, and even today is the supply base for airlifting materials to the U.S. Antarctic bases at Palmer Island and McMurdo Sound. I plan on spending some of my day in Christchurch visiting the Canterbury Museum, with its "Hall of Antarctic Discovery", as well as a famous display of material relating to the extinct Moas. And I'll also plan to walk through the center of the city, taking in its abundant sights. I'll report what I find here.
Tuesday 13 Depart Christchurch
Today will be the longest day of my life! I'm scheduled to fly home. First, I'll fly from Christchurch to Auckland. This first leg of the trip home should take me right over the Canterbury plains, where shallow braided river systems drain the glacier-rich Southern Alps to the west. My sister, Ann, tells me that geologists see this area as a modern example of how our own Great Plains formed from similar rivers draining eastward from the Rocky Mountains. Then in Auckland I get right onto the plane to Los Angeles. Then from LA to Charlotte, NC, and finally from Charlotte to Providence. The schedule has me leaving Christchurch at 2:50 pm local time, and arriving in Providence about 11:30 pm local time, still on March 13. But the total time, including layovers, is about 29 hours! It will be a long day!
2:50PM QF4132V departs Christchurch
4:10PM Arrives Auckland
6:40PM
QF 25V Departs Auckland
10:30AM Arrives Los Angeles
1:00 PM US Airways #1496 from LAX to Charlotte
8:31 PM Arrive Charlotte
9:45 PM US Airways #1142 to Providence
11:38 PM Arrives Providence!!!!
END OF TRIP