March 10 -- Otago Peninsula
Day l7
On this, my full day in Dunedin, the schedule was to spend most of the day on a custom tour of the Otago Peninsula put together by Monarch Tours of Dunedin.
The personable driver, John, from Monarch Tours was right on time, and he drove me slowly out on the Otago Peninsula, stopping at several places to look for shore birds. We saw lots of Grey Teal ( a new bird for me), huge numbers of Pied Stilts, and some Caspian Terns, as well as all sorts of other ducks, black swans, oyster catchers, etc.

The Otago Peninsula, like most of New Zealand, has spectacular scenery, with much of the peninsula formed and modified by volcanic activity between 9 and 13 million years ago. There are plenty of volcanic cones about. Even though these pictures are quite pastoral, they were taken just 15 minutes drive from center city. Dunedin has a resident population of about 120,000 people, plus a seasonal enhancement of about 20,000 college students. It has a very large area, but much of that is dedicated to sheep raising. I suspect that it has more sheep than any comparably sized, or larger, city in the world.
John then took me over to the University of Otago's marine laboratory, and a young lady graduate student, Anna, gave me a tour of their aquarium. This was interesting as it had nice examples of local fishes, including the largest hagfish I'd seen, a few elasmobranchs, and some great invertebrates. She put a big starfish on an abalone, and the reaction was remarkable. The abalone raised up on its foot and quickly rotated its shell left and right, and then took off crawling at a great rate of speed.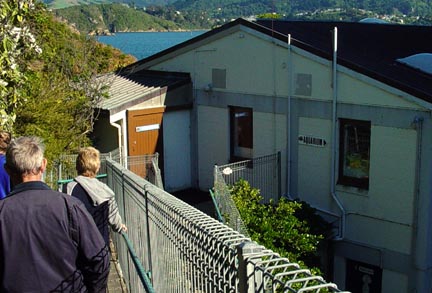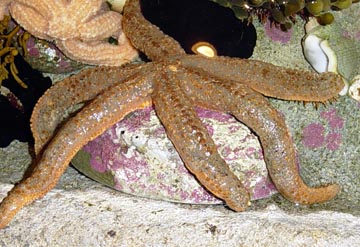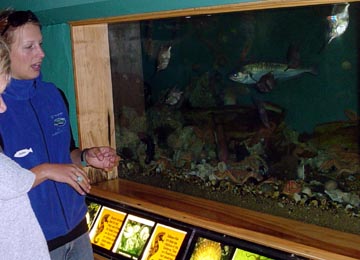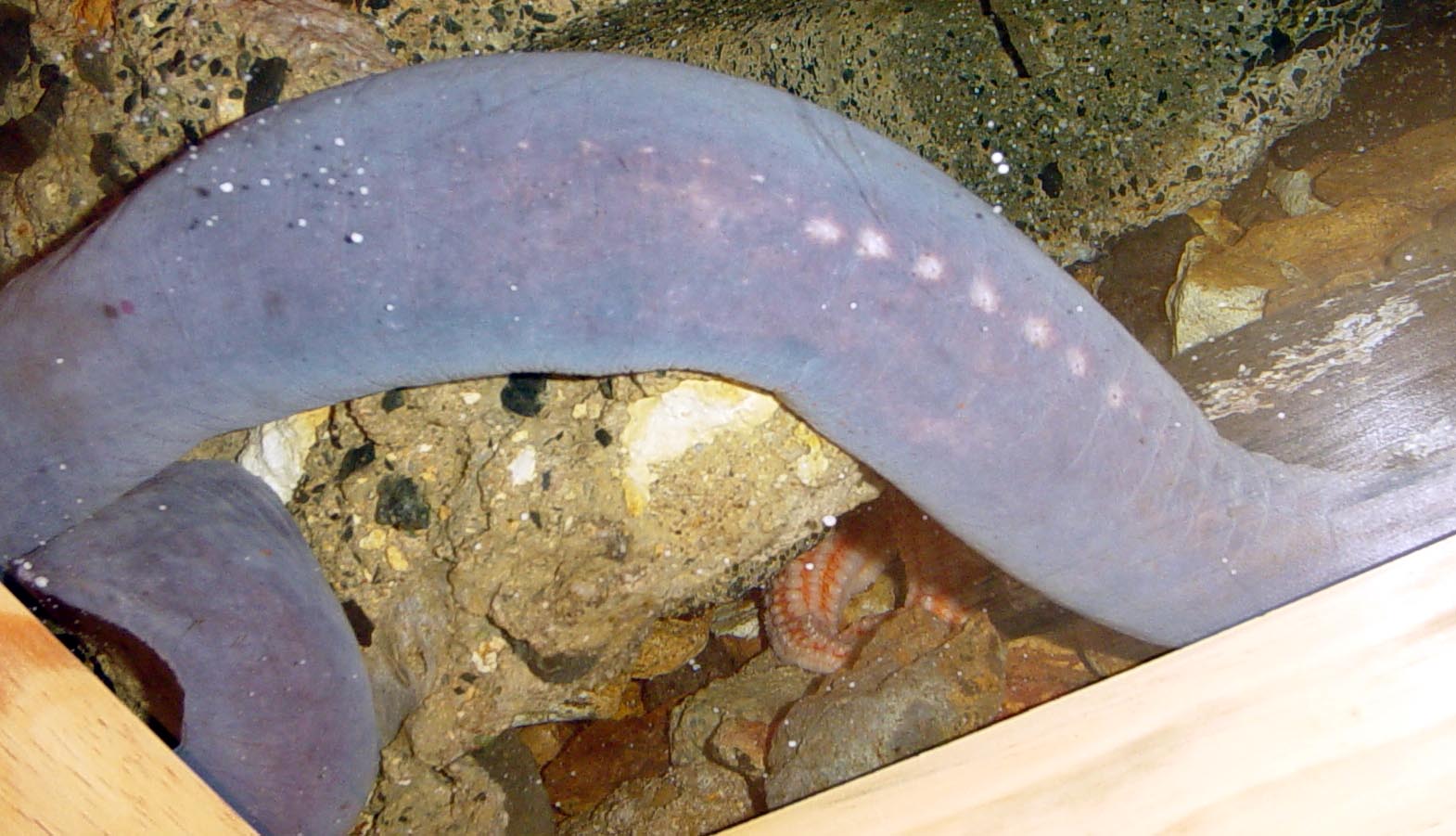 Following the hour and a half tour, the driver picked me up and we did some more bird finding, seeing a kingfisher, and more of the same shore birds. Then he dropped me off at the Royal Albatross Nesting site at the headland of the Otago Peninsula. It is really run carefully, and you can observe some of the nests from an enclosed observation room, for about an hour. We could see four chicks (not yet half grown), waiting for Mumps & Pops to bring food. They spend most of a year before fledging (that will happen in September). We did see one adult Albatross land just over a rise of the hill. The nesting area is tall tussock grass, with the nests widely spaced. The chicks are not in contact with each other. It doesn't look like a fun life--being an albatross chick.

Two Royal Albatross chicks can be seen in this distant shot--one on the lower left hand corner, and one on the upper right hand corner.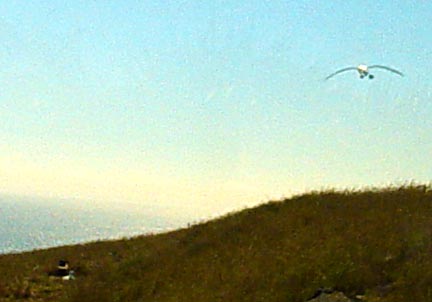 Here comes an adult getting ready to land (the flaps, aka feet, are down. The wingspan on this species is about 3 meters, smaller than that of the Wandering Albatross. Slightly smaller albatrosses, are known as Mollymawks.
Members of this species is known to have lived as long as 62 years. They breed every other year, raising only one chick at a time.
After leaving the observation building I ate my sandwich looking over a nesting colony of Spotted Shags, and Stewart Island Shags, with New Zealand Fur Seals sprawled on the rocks below. About 2:30pm the driver picked me up again and, with a larger tour group, we went to see a colony of Yellow Eyed Penguins—kind of a rare creature. They were past the chick rearing time, but were coming ashore to moult. This takes about a month, and they can't go back in the water or feed until they get their feathers back. The birds are scattered in high grass on hills a hundred or so yards back from the water's edge, and you can't get too close to them. We saw 7 Yellow Eyed Penguins and 1 Blue Penguin. It was a good thing to see.
This is a distant photo of two moulting Yellow-Eyed Penguins, an adult, nearly moulted on the left, and a barely discernable yearling, in the middle of its moult. This species is one of the rarest of penguins, with perhaps only a couple of thousand of them alive. They are the third largest penguin species (after the Emperor and King Penguins), and live fairly solitary, non-social lives. Not migratory, they come ashore each night to rest after spending the day feeding at sea
.
At the right there is a neat interaction going on. A moulting penguin stands motionless as three sheep approach. Finally, when the sheep came too close, the penguin darted its open beak toward them three or four times, until they moved away. The sheep felt sheepish.

Here is a Blue Penguin, the smallest of all penguins, spending its moulting period in a nesting box. Blue penguins construct burrows, in which to lay their eggs. They visit these only at night to feed the hatched chicks. This one came back to moult.
From the Penguin Colony we were taken to a boat, which headed out of the harbor to just seaward of the Albatross Colony, watching birds and Dusky Dolphins. There were about 5 or 6 albatross flying about, with many other sea birds. New to me were Black Fronted terns, and two Royal Spoonbills (not often seen here). A pod of Dusky Dolphins put on a tremendous display of leaping clear of the water again and again. It appeared to be about half a dozen males, chasing one female.

Here is a spotted shag on a rock, and a group of them on their nesting cliffs
And these are White Fronted Terns resting on a rock (above) and the mud chimney nests of Stewart Island Shags below


A couple of fur seals were seen swimming in the clear water.
I got talking with the captain, and it turns out he knows an invertebrate biologist, Sandra Shumway, who taught at UMD for a semester several years ago, and was a student in one of my shark courses years ago. Strange coincidences!
The trip was concluded with a long trip up the entire length of the Otago harbor to Dunedin, where we landed about 7:00 pm. They bussed me back to the hotel, and I picked up some takeaway fish and chips before coming up to the room. It was another wonderful day!