March 8 -- At Stewart Island, Day 2
Day 15

After breakfast I decided to walk some of the local tracks, close to the town. Getting some maps from the local Dept. of Conservation Office, I made a circuit of Horseshoe peninsula, between Halfmoon Bay and Horseshoe Bay. It was a fun tramp, with lots of birds singing, up and down path with stunning views of isolated beaches and coves, and a final point with huge numbers of Fluttering Petrels, and Sooty Petrels trading back and forth, along with the occasional Mollymock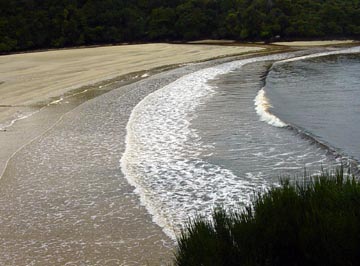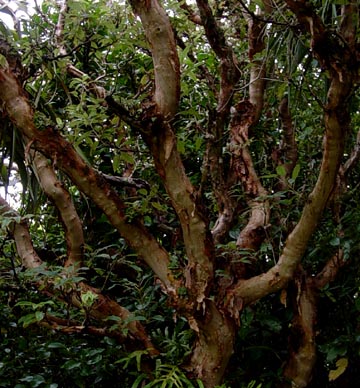 This is a fuschia tree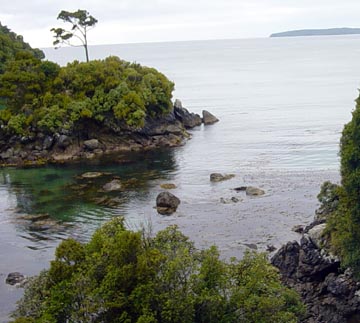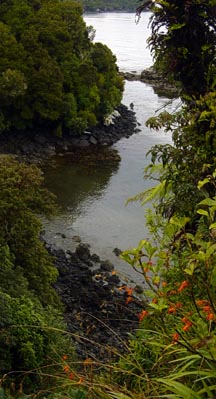 Typical coves along the track

One lane bridges are very common in New Zealand. The sign tells the driver that this direction has the right of way. I haven't seen a Kiwi (they are shy and very nocturnal), but the population of them on Stewart Island is fairly large--2,000 to 3,000. The road signs announce their presence.

The track back along Horseshoe Bay was less well marked, but fun to walk. There were small groves of huge Monterey Cypress scattered about, and a rocky point with some curious conglomerate boulders and some of apparent volcanic origin. Also, at low tide, there were exposed some of the largest kelp fronds I've ever seen. They were huge.

Lots of bird life on this track, with many fantails and silver eyes, and of course, bell birds and tui's with their clear songs. The wood pigeons were quite tame.

Coming down to Horseshoe cove, I walked the length of the beach—past an abalone mariculture place, and turned up a road to the track to "Garden Mound", which promised great views. Garden Mound turned out to be a pretty stiff climb, through some muddy and treacherous cliff sides. After 45 minutes of climbing, I reached to summit (162 meters), looked around, and headed back. There were lots of ferns beside the track


Hen & Chickens Fern Filmy Fern
I was six kilometers from the Lodge, and it was 2:00 pm. By the time I reached the internet spot, "Just Café" it was 3:30 pm, and I was tired and hungry. After sending some emails, I went back up to the lodge, showered, and got ready for dinner.

Being the only guest remaining in the lodge, I ate alone, but Margaret, the owner, sat with me and gave me a lot of information about the New Zealand sheep business. She had been raised on a sheep station north of Invercargill, and did a good job of explaining the business to me. She also is an avid gardener. Above are some pictures of her plantings around the lodge.
Eating dinner looking out over Halfmoon Bay, it reminded me of a small fishing village on the coast of Maine. The vegetation is different, but stepping back from the details, the effect was very similar. Of course, in Maine they don't have cabbage trees, and Kaka's coming to the porch to eat Kiwi fruit left out for them, but the boats were the same, and a village with only 250 folks fits right in.
Tomorrow I catch the van to the airstrip at 7:50 am for the flight back to my car at the Invercargill airport, and the ride through the Catlins to Dunedin. Just a few more days, and I'll be home!