March 11 -- Dunedin to Christchurch
Day l8
This was a full day. I got up around 7am and spent some time working on the computer, and packing my bags to get ready to check out at 10:30. Then I went out, and ate some breakfast at a little morning restaurant, and followed this with a walk around the Octagonal Square, which is the center of Dunedin. Here is the town hall, Anglican and Presbyterian churches, an art museum and lots of park, flowers, and gardens. Also there are many shops for the tourists.
Dunedin was founded and settled by Scots, and developed in the 1870s. And it certainly shows. The old gent, just visible in the bottom left hand side of the picture (on the left) is heading for the church, dressed in his finest, including a row of medals on his lapel. Last evening there was a bagpipe festival on the Octogon. I had to close my window. Directly across from this church is a statue of Robert Burns--whose nephew was an early resident of Dunedin.
Some of the other interesting buildings include an impressive Presbyterian Church, and several Victorian structures built in the 1870s to 1890s.

Presbyterian Church Town Hall Railroad Station

After checking out of my hotel, I found a parking place for the car.
Then I went back to the Art Museum (no cost), and looked at a couple of their exhibitions. The best was termed, "Cream" and consisted of some of the better English and European paintings in their collection. It was interesting, with works by Turner and Gainsborough, and a single one by Monet. The Monet was extremely worthwhile, since it had been analyzed by all sorts of technical witchery that revealed a lot about the artist's ways of working, and exposed some previously painting under the finished canvas.
Then I got into the car and drove several blocks to the Otago Museum, that was touted to be a good place to visit. My, it really was! Before even getting up the natural history section, I got stalled in a special exhibition on the history of Antarctic discovery. They have wonderful exhibits on Scott, Amundson, Shackleton, Byrd, et al. Many with videos of original footage, and artifacts. For example they have Edward Wilson's boots, and other personal belongings on display. Wilson was a naturalist and artist who was one of the four to accompany Scott on his tragic trip to the South Pole. On the way back, he was the first to die, when suffering from scurvy and realizing he was hindering the others, he told Scott he was "going to take a walk around, and I'll be gone for a while."

Also here are lots of other great items—one of Scotts three sleds, which Shackleton recovered on a later trip, Scott's pipe, and buttons from his coat. It is a fabulous exhibit. And it extends to modern times, describing the 1979 crash of an Air New Zealand 707 into Mount Erebus that killed more than 270 tourists. The cause turned out to be from a ground maintenance person loading the GPS system with the wrong coordinates.
After eating a sandwich in the café, I went up to the Natural History section, and enjoyed this almost as much. There is great information on New Zealand geology, including lots of good stuff about the Curio Bay petrified forest. The fabulous Moa birds are dealt with effectively with wonderful skeletons and stories of their recovery. And there is much here dealing with New Zealand birds—particularly the extinct ones.

The most famous extinct birds, of course, were the Moas--flightless birds that were brought to extinction only a few hundred years ago by the Maoris. This one is a mid-size specimen. Some were Ostrich size. They are so adapted for terrestrial life that they have completely lost any trace of their wings.
But the best part of the museum, for my money (and the admission here is free to out of town visitors), is their "attic". It is a faithful preservation of a Victorian museum, with all sorts of wonderful and unique specimens. I mean, where else could you see exquisite preparations of the complete cartilaginous skeleton of a skate? Or the skull of an Orca? And all sorts of stuffed, dried, and wet preserved oddities. And all cased in wonderful glass-fronted mahogany cabinets. It was great.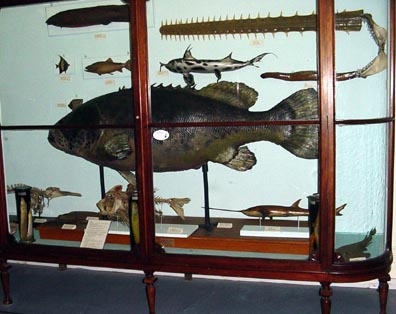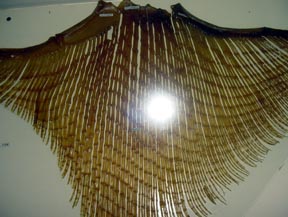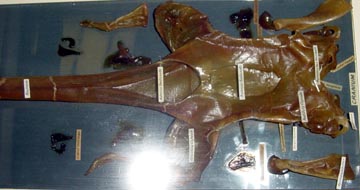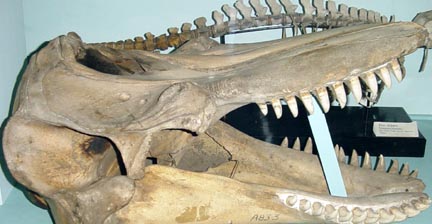 The attic wasn't easy to find, and poking around looking for it, I stumbled into a Maritime museum room that was crowded with all sorts of nautical stuff, including a nearly complete skeleton of a Fin Whale.

And retracing my steps from this stumbled onto a "teaching section" featuring several large cabinets filled with ancient Greek and Roman pottery. It was beautiful stuff, and seemed to consist of much more than the Fine Arts Museum in Boston has on display.

In short, this was the most interesting museum I've been in for a long time. Anyone coming to New Zealand should visit it—preferably early in the trip, because it opens your eyes to what goes on in this country.
Reluctantly leaving this museum, I headed for the airport, filling the gas tank of the rental car up en route (gasoline averages about $1.50 NZD per litre). At the airport I dropped off the car, got on the plane to Christchurch. The flight took just 55 minutes, and after a cab to my hotel, I can relax for a good night's sleep. Tomorrow I'll venture out and see the sights in this city—which are considerable. I'll report back.