MILLERS FALLS COMPANY
The most recent and best history of the Millers Falls Company is that of the outstanding web page published by Randy Roeder. This important document should be consulted for all questions about this company and its tools—especially braces.
Prior to 1868, when the Millers Falls Mfg. Co came into being, the foundations for the firm had been set with the partnership of Levi Gunn and Charles Amidon, beginning as early as 1861. First manufacturing washing machine wringers, the pair ultimately acquired rights to the seminal chuck patent of William H. Barber, and began manufacturing bit braces as early as 1864. In 1865, the pair took on a third partner, Elijah R. Saxton, renaming the company "Gunn, Amidon & Co." Saxton's participation lasted only for about 18 months, and then he departed, turning up later in Buffalo, NY.
Interestingly, Charles Amidon, after leaving the Millers Falls Mfg. Co in 1870, operation other manufacturing companies in Millers Falls, ultimately also ended up in Buffalo, and in 1877 entered into another business alliance with Saxton, forming the firm of Saxton & Amidon--a relationship that lasted until 1883, at least.
The earliest roots of Millers Falls brace making are traced to those marked by "Gunn & Amidon". These are rare items. The earliest brace of mine that can be traced to these roots is a 12 inch sweep sleeve brace that is marked on the lower bow with Barber's May, 24, 1864 patent date, and on the upper one, "Manufd by G.A.&S" / Greenfield, Mass. I interpret this to mean "Gunn, Amidon & Saxton." It is the earliest putative Millers Falls brace that I own.

By 1868 Gunn & Amidon took on a third partner, Henry Pratt, in order to obtain new financing, and the Millers Falls Manufacturing Company was born.
When looking at early Millers Falls braces it is important to realize that from 1868 to 1872, the company called itself the "Millers Falls Manufacturing Co." and was located in parts of Greenfield, Massachusetts. Only after a reorganization and a move to the nearby village of Millers Falls in 1872 was the company name changed to the Millers Falls Company. Accordingly, braces marked "Millers Falls Mfg Co." (or a variant of this) can be dated to the first four years of the company's existence.
Among the tools initially produced by the fledgling company, braces were most important. Beginning with the acquisition, by Gunn & Amidon, of the May 24, 1864, patent (#42827) of William H. Barber for a chuck shell that forced the spring loaded special jaws closed when it (the shell) was screwed onto the chuck base. This idea became the most enduring form of bit brace chuck, and variants of it are still produced today.
Because one of the founding partners of Millers Falls was Charles Amidon, himself a bit brace inventor, refinements of the Barber chuck were quickly made by Millers Falls. Even as the Barber chuck was beginning to find acceptance, the Millers Falls Manufacturing Company experimented with other chuck designs, including those of Albert Goodell and Clemons Rose.
The Goodell chuck (patented July 14, 1868, #79825) is rarely seen today (Pearson "A" rating). It is an interesting chuck, having a pair of curved jaws the rotate toward the center of the chuck when an outer knurled ring is turned. This is accomplished when the curved outer sides of the jaws, which are slotted, engage the threads on the inside of the knurled ring. Not shown in the patent diagram is a second feature of the chuck that involves a second knurled ring near the top of the chuck. Rotating this ring moves an internal seat engages the top of the bit. Thus the jaws can be tightened against shank of the bit (with the lower ring) and the base of the tang then forced down to rest against the backs of the jaws. This feature anticipates later patents awarded to Armstrong (lever cam adjust) and Bartholomew (screw adjust).

This pair of braces with Goodell chucks show some interesting differences. The seemingly earlier one (lower), with a replaced cup handle, is marked "No. 2" on the upper bow, and "Pat. July 3, 1866" on the lower bow. The only patent I can find on that date related to braces is one for a chuck design by Frank Johnson of Brooklyn, NY (#56059). This is for a means of shaping jaws to fit a variety of bit shank sizes and does not seem related to this chuck. So the patent date presents a puzzle. The second brace has a wooden wrist handle, and a full brass outer sleeve on the chuck. The bow on this one is marked, "Millers Falls Mfg. Co." The chucks on these braces work identically. Both have 10" sweeps.
Clemons B. Rose of Sunderland, Mass was awarded at least six brace patents, two of which were important ones. One, #63944 was issued on April 16, 1867 and is the basis for the "Rose" chuck found on some early Millers Falls braces. It was reissued on January 5, 1875 as #6212 (under the aegis of the Millers Falls Mfg Co).* The chuck features a pair of jaws that protrude from the mouth of the chuck as the knurled ring at the top is turned. Like the Goodell chuck (and later Fray chuck with interlocking jaws), the jaws are grooved on their outer sides, at the base, and engage threads on the inside of the knurled ring. These chucks have prominent brass ferrules below the ring, are showy, and prized by collectors. The four braces below include two of larger sweeps (both 12") and two smaller ones (6" & 8"). One of the larger braces (at the top) is marked, "Bitstock Co., Greenfield, Ms / Pat'd April 16, 1867. According to Randy Roeder's research, the "Bitstock Co." may have been operated by Gunn and Amidon (both Millers Falls partners). Perhaps this was a guise to manufacture the Rose patent chuck before its acquisition by Millers Falls in 1869)

Among the other three braces above, the largest is marked, "Millers Falls Mf'g Co. / Greenfield, Mass" with the patent date and "No. 1". The smaller braces are each marked with the patent date. The smallest is also marked "No. 5." These braces carry a Pearson "B" rating for rarity.
My collection also contains a Bit Extension ( 19" long, overall) fitted with a Rose patent chuck. The rod is signed only by an owner. It is not clear that it was a Millers Falls product, or hand fashioned from a scavanged chuck. But, except for the chuck, it is similar to catalogue illustrations of other early Millers Falls extensions. At least two other collectors have told me that they have identical bit extensions with Rose chucks. One of these is marked, "Millers Falls Mfg. Co" and the other, "Millers Falls Co."

Rose's second enduring patent was for a distinctive wrist handle (Patent #82251, Sept. 15, 1868). This quite decorative handle has a terete rosewood (or cocobolo) handle enclosed by broad brass ferrules at either end. The ferrules are riveted to the underlying wood and are soldered to the shaft of the brace. They are immovable and don't rotate even though the patent description makes that claim.. Of the four Rose chuck braces shown above, three have complete wooden handles that must have been applied to the shaft before bending the bows (a la Bartholomew), while the 8" sweep brace's wooden handle is in two halves, and could have been applied after manufacture.

It is appropriate to mention that a weakness of both the Goodell and Rose chucks employed by Millers Falls was the difficulty of replacing broken jaws. The internal workings of the chucks were not easily accessible, and jaw replacement must have been difficult, if not impossible. That fallibility was obviated by the design of the Barber chuck.
William H. Barber patented his revolutionary chuck on May 24, 1864. According to Randy Roeder's historical research Barber was from Windsor, Vermont – up the Connecticut River a ways from Greenfield, Mass. He sold his rights to the patent to Levi Gunn and Charles Amidon in 1865. Gunn and Amidon, who had a small manufacturing concern in Greenfield, began producing the braces. In 1868, with Henry Pratt, they formed the Millers Falls Manufacturing Company and brace production began in earnest. Very soon (the patent was awarded on Jan 14, 1868) Charles Amidon, perceiving weaknesses in the Barber chuck, patented a refinement that involved pinning the jaws together, changing the shape of the jaws, doing away with the cast (or machined central piece in the middle of the chuck), and eliminating the basal spring behind the jaws of the Barber chuck. This refinement was termed the "Barber's Improved" chuck.
For brace collectors the distinctions between the chucks—Barber's and Barber's Improved--are important. Barber's original patent was produced in quantity by Millers Falls for only a short period of time—between 1865 (at the earliest), and sometime in 1868 or 69. The bulk of the "Barber" chuck production over the ensuing years was really of Amidon's patent—not Barber's. Indeed in my experience, true Millers Falls' Barber patent chucks are found uncommonly today, despite Ron Pearson's rating of "FF" (frequently found) for them. They are, however, fairly often appear on unmarked braces found on smaller company's chucks after the early 1880's when Barber's patent expired.
Because the original Barber patent chuck had several independent internal parts (2 unattached jaws and a floating spring behind them), parts are often lost and the original jaws are usually replaced with Amidon's jaws—making a "Frankenchuck." Collectors beware! Indeed, Henry L. Stevens, on June 22, 1880 patented an improvement to the original Barber jaws that included a sleeve to help keep the spring and the jaws together . This "improvement' is so rare that neither Ron Pearson nor I had seen it-- until one recently came to light.

A comparison of original Barber patent chuck (on the left) and Amidon's "Barber's Improved" chuck (on the right). With fewer parts, parallel jaws, and less milling on the chuck, Amidon's improvement made functional and manufacturing sense.
I have only two Millers Falls Mfg Co braces with authentic Barber patent chucks in my collection. They are of different sweeps, but are otherwise alike and quite distinctive. In each, the brace is without a wooden wrist handle, but has a thin, very nicely turned wooden cup handle with elongated metal quill. The lower bows are stamped, "Millers Falls Mfg. Co" on one side, and "Barber's Patent / May 24, 1864." The chucks are lightly marked with decorative knurling, but no other marks. I regard these as early products of Millers Falls Mfg. Co. The wooden cup handles are especially interesting because the later Rose and Goodell patent braces, made by Millers Falls Mfg. Co. had iron handles. The handles on the earlier braces are different (and nicer) than later Millers Falls Mfg Co brace cup handles.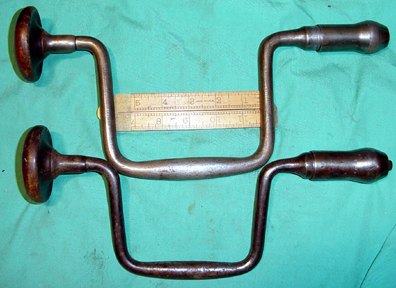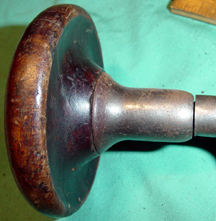 Slightly later braces from MF Mfg Co. are marked, "Millers Falls Mfg. Co." and "Barber's Improved Patent" with the 1868 date. The mark is also on the lower bow, and the chuck shells look identical to the original Barber patent shells—with light knurling, but no further information. No model number appears on any of these early braces.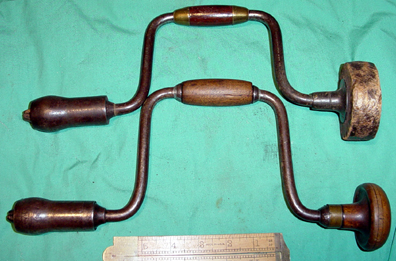 Note that one of these braces (the one with the replaced crude cup handle) has Rose's patent wrist handle.
As another example of a Millers Falls Mfg Co. brace, the one below is interesting because is is signed by the company (predating 1872), has a Rose patent wrist handle, Barber Improved Chuck (with patent date), and a model number stamped on the lower bow. It is No. 13, which conforms to the later model number for the 8" sweep sleeve brace (which this is). Randy Roeder's research suggests that this model was produced by the Millers Falls Co about 1878, but here is a marked example, pushing that model back to 1872, at the latest.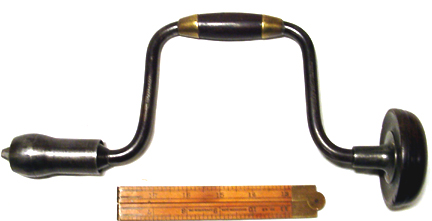 Another example from the Millers Falls Mfg Co. is the brace below that is marked, "No. 22". It also carries Amidon's Jan 14, 1868 patent for the "improved Barber" chuck. Distinctive the for rather bulbous wooden wrist handle, this is another model that was manufactured by the Millers Falls Co. after the 1972 reorganization, but this example shows that it was produced before 1872, as well.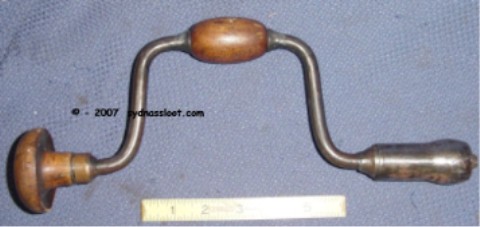 Following the formation of the Millers Falls Company in 1872 - coincident with the absorption of the Backus Vise Co, the taking on of Henry Pratt as a partner, and two years after the departure of Charles Amidon – the new company expanded its brace line substantially, producing a variety of models that differed in quality of wood and construction. Initially, however, most were equipped with Barber's Improved chucks. These braces distinctively are marked with a model number on the bow; and further marks ("Millers Falls Co, Millers Falls, Mass," and patent information) are now on the chuck shell. Three examples of such braces are shown below.
The bottom brace is marked, "No. 13" on the bow, and "Millers Falls Co. / Millers Falls, Mass" and "Barbers Improved / Pat'd Jan. 14, 1868" on the chuck shell. It has an 8" sweep. The middle brace is marked, "No. 73" on the bow, and "Millers Falls Co" & "Millers Falls, Mass. U.S.A." on the chuck. It also has an 8" sweep. The top brace with lignum cup handle is unmarked on the bows, but the chuck is marked as the bottom brace. Its sweep is 6". See Randy Roeder's website.
The non-ratcheting (sleeve) braces, numbered 10 to 16, are interesting in that for a number of years, Millers Falls produced the Nos. 15 and 16 braces with a 4 inch sweep (2 inch throw). These braces are sought after by collectors today, since they are not common. The No. 15 was produced with the Barber Improved chuck between about 1876 and 1922. Below is an example of one. The small sweep and frame, sporting a standard size Barber Improved chuck (with McCoy jaws) gives the brace a somewhat ungainly look.
The Number 16 sleeve brace is even more uncommon. This number was equipped with a small chuck, designed for use with Millers Falls' tool handles. It was produced approximately between 1885 and 1903. In their catalogs, this brace was said to have been designed for piano makers. This was probably a pretty small market, and so an extended production period was not in the cards. An example of this brace is shown below, along with a comparison of its chuck, and one from a more recent Millers Falls tool handle.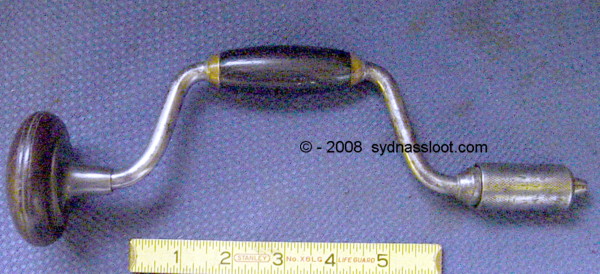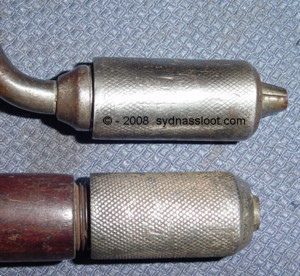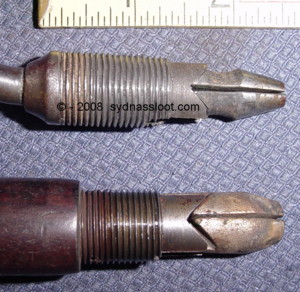 The early brace marketing success of the Millers Falls Co was not without contentiousness. A plethora of brace chuck patents appeared in competition with the Barber's Improved chuck. Some of them were close, if not actual, clones. One company that was particularly keen on competing with Millers Falls was that of William Ives of New Haven, Conn.
Prominent among the many attempts to outdo the basic Barber chuck design are other patents by Ives, Amidon, and Backus (whose vise company was incorporated into the original Millers Falls Co.). Others later tried to improve on this basic chuck design (eg. Fuller).
With the utility of the Barber Improved chuck proved, the next inventive step in the perfection of the bit brace was to develop a ratchet mechanism that allowed the brace to be used in situations where the complete sweep of the bow was restricted. The ability to bore clockwise and counterclockwise was a requirement for the ratcheting concept. The earliest ratchet patent dates from 1857, but Millers Falls adopted a patent granted to John Lynam in 1871. This brace was produced for a fairly short time and is uncommonly found today (Pearson, "B"). I had looked for years for an example of the Lynam ratchet patent, and falling short have come to believthat it is much less common than the Pearson "B" rating would lead one to believe. Finally, in May, 2018 I found one at a local flea market.
The development of a commercially viable ratchting mechanism was an important one in the evolution of American bit braces. An early entry into this market was made by Millers Falls with the production of a brace, the ratcheting mechanism of which was based on a patent (April 11, 1971) by John T. Lynam of Jeffersonville, IN. This is a simple mechanism, relying on two strips of spring steel that serve as dogs for the single ratchet pawl, an are positioned by a thumbscrew with an acentric shaft. This brace went into production in 1871 (when Millers Falls was still the Millers Falls Mfg Co. According to Randy Roeder's great MF history (http://oldtoolheaven.com/brace/brace1.htm ) production ceased by 1881). Two brace sizes were produced—No. 1, with 12" sweep; and No. 2, with a 10" sweep. Pearson's book, by the way gives an incorrect date for this patent, so there is room for confusion, At any rate, this is the brace that I found. It is in the 10" sweep (MF No 2). The ratchet mechanism conforms in every way to the patent description, and is surely an early Millers Falls brace. But I can find no stamped markings on it, except for an owner's stamp (W. S. Davis) on the upper bow. The brace took a hard knock to the top handle that chipped out the wood at the top, and broke the quill flange below. But it is rare, and it works!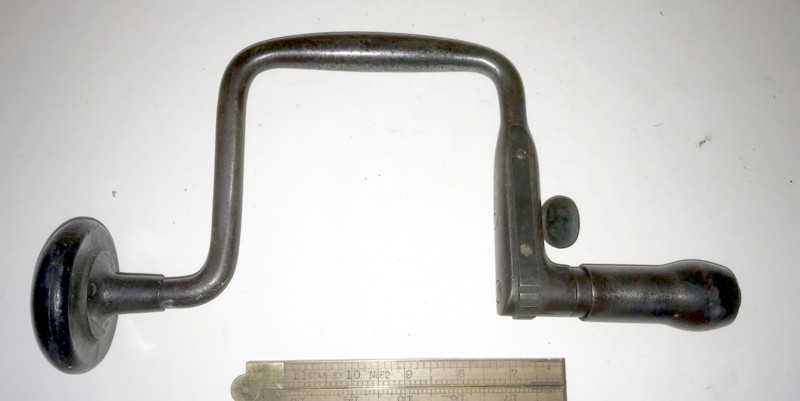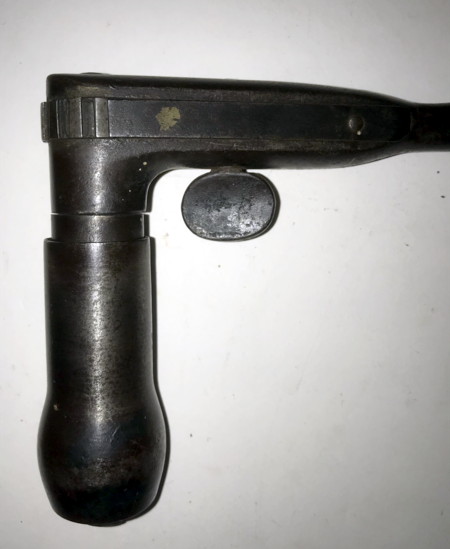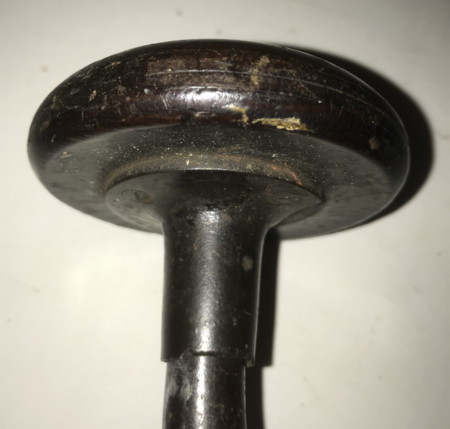 By 1878, however, Millers Falls was producing a line of ratchet braces that incorporated a ring selector and proved to be a very successful product. This was their line of models numbered 30 to 34. I own one of these braces, a 10 inch sweep No. 32, that has the chuck shell marked with both Amidon's 1868 patent for the improved jaws, and a patent date of Jan 17th, 1871. This latter patent was issued to William P. Dolin for his ratcheting device. It rates an "NS" for rarity. This seems to be the earliest example of a truly successful brace ratchet.
Another example is a No. 31 (12 inch sweep) the chuck shell of which is also marked with Dolin's ratchet patent date, and the patent issued on Aug 15, 1871 to William McCoy (No. 118058). This covers the retaining rings on the wrist handle, that are buttressed on their inner surfaces. This is a Frequently Found patent. This brace is in wonderful condition and is marked by C. Clough, a Nashua, New Hampshire cabinet maker from the 1870s.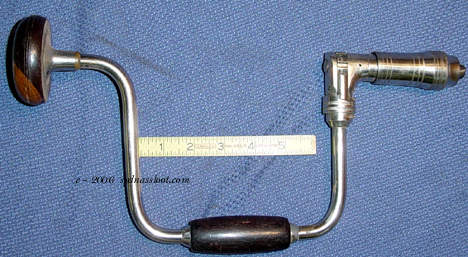 Following its introduction, this line of ratchet braces underwent periodic improvement in jaw and spring patterns, and were sold for a long while (up to at least 1955). They are common today and still considered excellent ratchet braces.
A less well known line of Millers Falls braces was that of 6x models (61, 62, 63). This line was only made from about 1879 to 1922, but at least the early models had the elusive 1880 patent of Stevens that put a brass cylinder around the coiled spring behind the jaws to protect it from damage or loss. The remainder of the chuck, with its machined struts in the chuck remained the same as Barber's original chuck, patented in 1864. It is surprising first, that Millers Falls used this improvement only after 16 years elapsed from Barber's patent, and second, that it was apparently used on just a limited number of Millers Falls braces. It remains a seldom seen patent.
Here is an example of a No. 63 Millers Falls brace, marked with the June 22, 1880 patent of Stevens, and with the distinctive chuck and jaws. (Pearson, NS)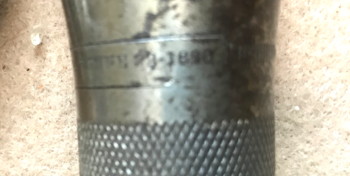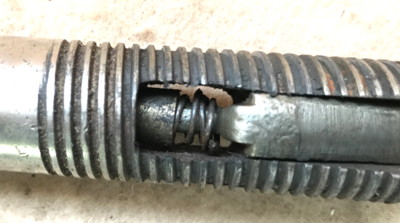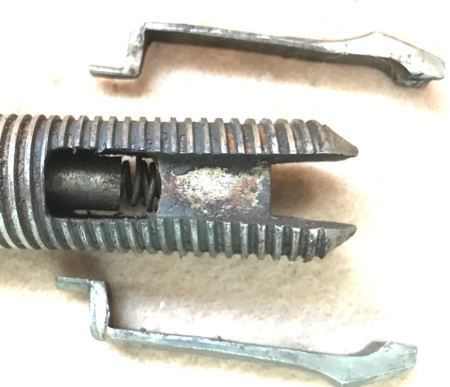 A noteworthy improvement in brace jaws occurred with the second patent of William McCoy (#421,420) issued on Feb. 18, 1890). This described the use of a wire spring to hold the pair of jaws apart, until pushed together by the action of the Barber chuck shell. This appears to have been the forerunner of the later spring loaded jaws found in all of the quality braces made by P.S. & W., Millers Falls, North Bros. and Stanley, but it is seldom found in the older braces (Pearson "A"). Here is an example found in a No. 34 ratchet brace with 6" sweep. The patent date is marked on the chuck shell. I've also found this patented jaw set on a Millers Falls Drill Brace and angular bit stock (see below).
As Millers Falls entered the 20th Century their finer chucks were developed--the so-called "Master" and "Holdall" chucks that gripped round and tanged shanks more securely—and the "Lion" chuck that was easier to tighten, gripped all sorts of bit shanks, and was fitted with ball bearing for smoother operation. This chuck was developed to compete with the earlier "Samson" chuck of Peck, Stowe & Wilcox, and later helped stimulate development of the North Bros ratchet chuck.

This No. 772, 10" sweep brace is fitted with an early Lion chuck. The chuck was introduced in 1915, and this one is marked with two patent dates - Feb 16, 1909 and Nov 8, 1910. Neither patent is listed in Pearson.
In addition to braces, Millers Falls marketed a variety other sorts of bitstock tools. These included brace drills, chain drills, hollow auger braces, and sill borers. Examples are shown below.

This Millers Falls "Patent Universal Angular Bitstock" device carries a "Feb'y 18, 1890" patent date on its chuck (for McCoy's patent for chuck jaws--Pearson "A" rating for rarity).

This is an example of the No. 182 drill brace with Barber Improved chuck, also marked with Feb 18, 1890 patent for the McCoy spring jaws. For more information about brace drills, see George Langford's website.

This dedicated hollow auger brace is the No. 2 hollow auger, not well received and an uncommon tool to find. It is built on the frame of a No. 10 14" brace.
Here is a Millers Falls No 51 sill borer, or joist tool, made for boring holes perpendicular to the axis of the tool. This was introduced in 1915 and was such a poor seller that is very uncommonly found today.
Millers Falls' attempt to market a ratchet corner brace did not meet with much success. The two handle format was awkward and capable of less vertical force application than the more successful Fray model, which was adopted by Stanley. This is a rare tool to find today.
Return to Brace INDEX
_____________________________
* - It is curious that the patent drawings are signed "C. B. Rose / Millers Falls Manf. Co. / Assignors / per K.B. Dimagini, Atty" and are dated Jan 5, 1875. This is more than 2 years after the Millers Falls "Manufacturing" Company ceased to exist. According to Roeder, application for the reissue was made in 1873--still later than the reorganization date.