WILLIAM A. IVES
William Ives who worked in New Haven, Connecticut and surrounding towns (Wallingford, Hamden) from 1868 to 1917 was a prolific inventor of braces and other boring tools between 1868 and 1884, when he received at least a dozen patents for these devices. Although he was known best, perhaps, for his conflicts with the Millers Falls Co.
One of Ives' braces is shown below. Until I cleaned this tool up a little I was certain it was a Millers Falls Mfg. Co brace with Rose patent wrist handle and Barber Improved chuck. The bow, however, is stamped, "Patent Feb 7, 71, W.A. Ives & Co." (Pearson "B"). The patent is for a pair of unpinned jaws that hook at their bases into recesses in the shaft of the chuck. But it fooled me. Millers Falls entered into litigation with the Ives Company over several patent infringements.

In addition to the above Ives brace with Rose wrist handle I own several additional Ives patent braces. The first of these is a sleeve brace with 14" sweep and cocobolo handles marked, "No. 10." It has a chuck shell in two parts that is marked with the patent date May 7, 72. This is for patent #126395 that shows the chuck. This device pushes the jaws through a fixed mouth part of the shell, as the upper part of the shell screws it forward. It rates a "B" from Pearson for rarity. This chuck is also marked with a second patent date - Sept 23, 62. The only brace patent awarded on that date was to G. Stackpole for a split chuck design that has nothing to do with this brace.

Another Ives' brace has a chuck marked with the same two patent dates, but has other differences. It is marked, "No. 23," has an 8" sweep, stained hardwood wrist handle, and a cast iron cup handle. More research is needed on the Sept 23 patent date. The stamp on both braces is equally obscure each brace with respect to the putative "6", even though the rest of the mark is very clear.


A very similar brace of mine is also marked with the strange 1862 patent date and the May 7, 1872 date of Ives' patent listed above. It is also marked "23"on the lower bow and has an iron top handle.
A final Ives' marked brace in my collection is really a pretty brace in great condition. This 10" brace is marked, "W. A. Ives & Co. / New Haven, Ct" on the chuck shell. The lower bow is marked, "No. 13" and a different stamp has deeply impressed, "52" over the "13" of the older stamp. The cup handle on this brace is a delicate one made of lignum vitae (lots of sapwood) that is dished out on its underside. There are remnants of a paper label on its top. The wrist handle is rosewood with turned decoration and pewter ferrules.

Of some interest are the clear patent marks on the chuck shell. These (there are two) include the aforementioned Sept 23, 62 date that has no apparent relevance to this brace. The second date is Feb 7th, but no year. Probably the reference is to Ives' patent of 1871. But the chuck appears to have no relation to that patent, containing instead jaws that include grooves to engage the threads on the inside of the chuck shell. But a look at all of Ives' patents shows this arrangement of jaws, threaded and spring loaded, is identical to the patent of Ives & A. Rutz, (March 21, 1876; #175105; Pearson, NS). It appears that Ives was quite cavalier about the patent markings on his braces!
A final marked brace is a nice sleeve brace with 9" sweep and a chuck with interlocking jaws. The chuck shell is clearly marked, "W. A. Ives & Co. / New Haven," and "Pat. May 30, 1882." This is for Ives" chuck patent (#258,764, Pearson "B") of that date. The chuck features a captive rotating shell that moves the jaws. It is completely faithful to the patent description. The brace is marked with a model number, "202.". It has rosewood wrist handle held between pewter retaining rings, and a lignum vitae top handle.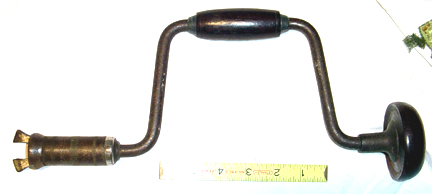 Another putative Ives brace is one with a ratchet patent by F.P. Pflegar, also of New Haven Connecticut.
A final Ives product is this auger handle. Not marked, but it clearly is a product of Ive's patent number 247,062, awarded on Sept. 13, 1881 (Pearson "B").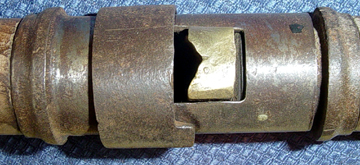 Return to Brace INDEX