QUIMBY S. BACKUS
Quimby Silas Backus (wonderful name, what?) is credited with a number of bitstock and other patents. Born in Bridgewater, Vermont in 1838, he attended public schools and then the Brandon Seminary. At the age of 18 he was trained as a machinist in Woodstock, VT and then worked at the Howe Scale Co. in Brandon, working on parts for the first Howe Scale. He then worked as a tool maker in the gun manufactory in Windsor, and in railroad shops in Rutland. At some point he formed a company in Windsor to manufacture bench vises--the Backus Vise Co. The acquisition this company in the early Millers Falls empire is summarized by Randy Roeder in his history of the Millers Falls Company. Randy has recently written a very authoritative and complete biography of Backus, the first part of which can be found here.
Backus' most common brace patent is for an adjustable angle bitstock tool (#132790, Nov. 5, 1872) that features a distinctive chuck that is also found on braces. The chuck was also patented on the same date (#132791) and rates a "B" on Ron Pearson's rarity scale. The angle bitstock is more common. Here are two braces with the Backus chuck. They are both marked, "Q.S.Backus / Pat Nov. 5, 72 / Holyoke, Mass" on the chuck. The upper brace is marked "No 8" on the lower bow and has rotating cocobolo wrist and cup handles. The lower brace is marked "No. 7" and both handles are stained hardwood and fixed in position.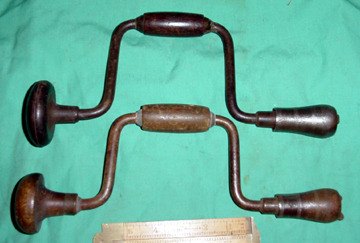 The adjustable angle bitstock on the right is an example of Backus' first brace patent. It rates a Pearson "C" for rarity.
One of the more unwieldy looking braces was Backus' patent for bit stock wrenches (June 24, 1879, No. 216,776). This was awarded during his New York City tenure. The original patent is for a chuck on short extension that could be chucked into a regular brace or drill. This example is a dedicated brace wrench. Pearson "B" for rarity.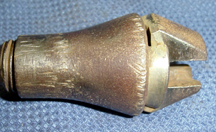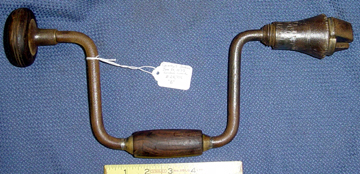 The original concept was for this chuck on a short extension. Here is an example. It is an uncommon find.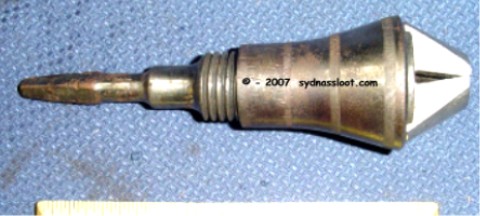 The brace below is marked with his final patent filed when he was in New York City (No. 233464, Oct 19, 1880--Pearson "B"), and a final brace patent issued when he returned to Winchendon (No. 234517, Nov 16, 1880--Pearson "B"). The patents are for jaws that are spring operated. The earlier patent uses and internal coiled spring, while the latter has external strap springs on the outer sides of the jaws.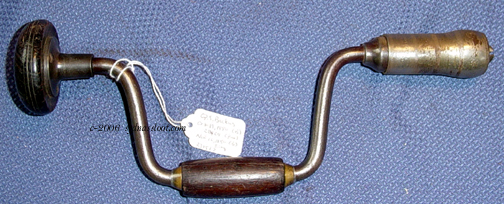 In later years Backus moved to Philadelphia, and then to Williamsport, PA, where he manufactured steam and gas heaters of his own design. He returned to Brandon, VT in 1895, moving his heater manufacture to that town in 1902. He was a senator from Rutland in the Vermont legislature in 1902, and made an unsuccessful run for Governor on the "Independent League" ticket in 1908. Quimby Backus died at his home "Quim's Home" in Brandon, VT on Dec. 27, 1912 at the age of 74. He left his wife (Lavinia) of 54 years, and a son and a daughter.
Return to Brace INDEX