DAMASCUS MITRE PLANE

This plane offered some new territory for me and stretched me beyond anything I've done in the past in several respects. Other than this is my first try at the "Improved Pattern" mitre (created by the Scottish plane maker Stewart Spiers) this is also the first time I've used ebony (which is brittle as glass); the first time I've done a "traditional" molded front bun; AND the first time I've made a plane using Damascus steel (this pattern is called "twist").

Using this Damascus stuff really brought out the nervousness in me. In order to actually see the pattern in the steel you must etch it with acid. Since you must mount the infill in the body, rivet it and then clean off the peined heads this then leads to having to lap the sides out. Which means no more pretty Damascus pattern! You must then apply the acid again to revive the pattern All of this leads to having to etch the sides with the infill in place. Acid everywhere--plane under hot soapy water (to neutralize the acid), etc... Basically all the things I try to avoid having on my nice exotic wood infill that I've spent lots of hours trying to make look nice!


It was quite an experience but one that I'm glad I tried as I'm quite pleased with the look of the patterned steel. It gives a nice unexpected element to the overall very traditional style of the plane.


The plane measures 8 inches overall in length, 1 15/16 inches wide and weighs 2 pounds 11 ounces. As mentioned before the infill is made of Nigerian ebony. The lever cap was cut from some 1/2 inch thick stock of Naval brass. While the sides were made from "Twist" pattern Damascus (forged from O1 and 1095 steels with 8% nickel added) the sole is annealed O1 steel. The "snecked" iron was made from 3/16" thick O1 steel that was hardened and then tempered to approximately RC 60. It is ground to 25 degrees and is bedded at 20 degrees.

Since this plane is intended as a final pass smoother I made the
mouth quite small, measuring a scant .003" "shaving aperture" (the maximum available space for the shaving to pass through).

After fettling, my "final test" for this plane was to plane a piece of extremely curly rock maple to a glass-like finish. It is able to achieve this level of finish regardless of grain direction and works equally well across the grain!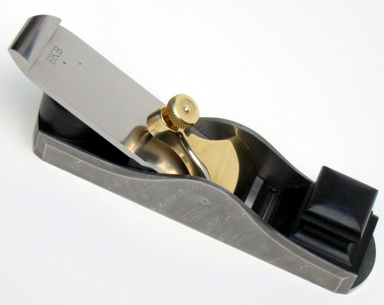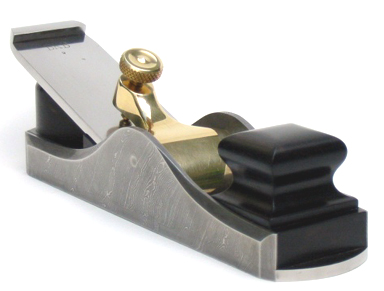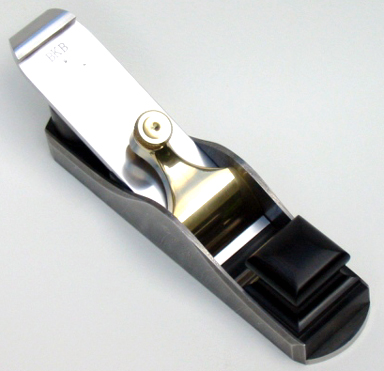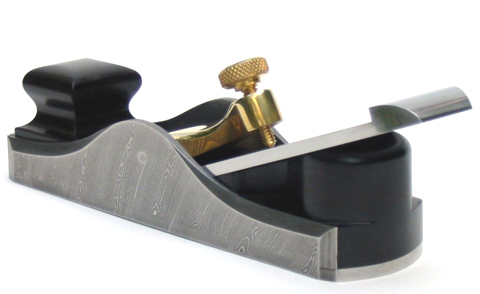 If you have any questions and would like to contact me you can email me at BucknerB@mail.co.leon.fl.us