Item NA10 - Sailor Made Gun Case.
This case for a small rifle or single barrel shotgun is made of heavy sailcloth, and hand double stitched with cotton. The open end of the case has a flap closure, with toggle hole (but the toggle is missing). In front of the end flap is an applied pocket (for ammo, perhaps) with flap closure that is fastened with small bone toggle. The entire case is stitched with two cotton yarns per hole. The holes were surely made with a sail maker's awl or fid. Some of the stitching is worn on the edges, and the sail cloth has some expected areas of staining. The case is 47 inches long (including the opened flap at one end, It tapers from 6 inches wide at the open end to 2 ½ inches wide at the closed end. The applied pocket is 4 ½ inches wide and 3 ¼ inches deep. The case could hold a gun up to 42 inches long, overall. I bought this case from a New England dealer who said he found it at an estate sale in Vermont, and there was some tie in with the Arctic in its provenance. I can well believe the Arctic part of the story, since it clearly is the work of a sailor. In the 19th century the arctic was host to a bevy of whalers and explorers who could have made this item. Indeed, I believe that the descendents and family of the Arctic explorer Robert Peary came to live in Vermont in the 20th Century. It is a great item for a nautical or Arctic collection.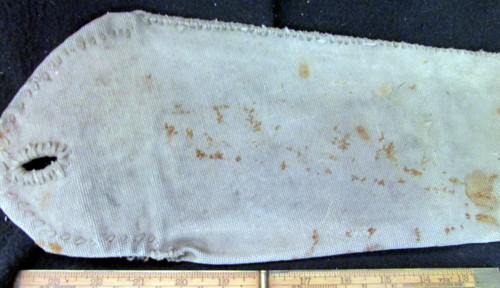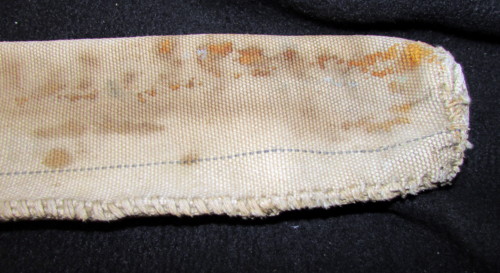 Price - $300.00
RETURN to forsale list.