Item WP3 -
Unmarked Early Appearing Ogee Molding Plane.
Here is a plane that is of interest, first because of its quality, second because of its early features, and third because of a disk-like mark stamped on the toe. The plane is an unboxed ogee molding plane without spring and having a profile 11/4 inches wide. The unmarked blade is clean and sharp. The plane has seen little use and is in Fine condition. As for its early features, the body is beech and the wedge is yellow birch. The body is 10 inches long, with flat chamfers that are 3/8 inch wide. There are not flutes nor chamfering below the flat chamfers except for a very abbreviated lambs tongue on the left side. Both right and left sides show tear out during its construction. The yellow birch wedge is fashioned with just a slight relief. Given its length, flat chamfers, and the mix of yellow birch wedge with beech body, it has the look of a circa 1800 plane. While there is no obvious maker's mark on this plane, there is a very cryptic disk-shaped stamp on the toe, on its left side, below the highest part of the body. The circular stamp has a diameter of 3/8" and is quite weak. It has a serrated or "postage stamp" border.A photograph shows clearly that the mark is '"I. M", or perhaps the "I" is an older style "J". I can find no likely plane maker with these initials, but point out that the "I" is in the form used by the 18th century black plane maker, Jethro Jones and other early plane makers. I have not seen a user mark with this sort of circular stamp. Right now this is a nice plane that carries with it an enigma. Fine.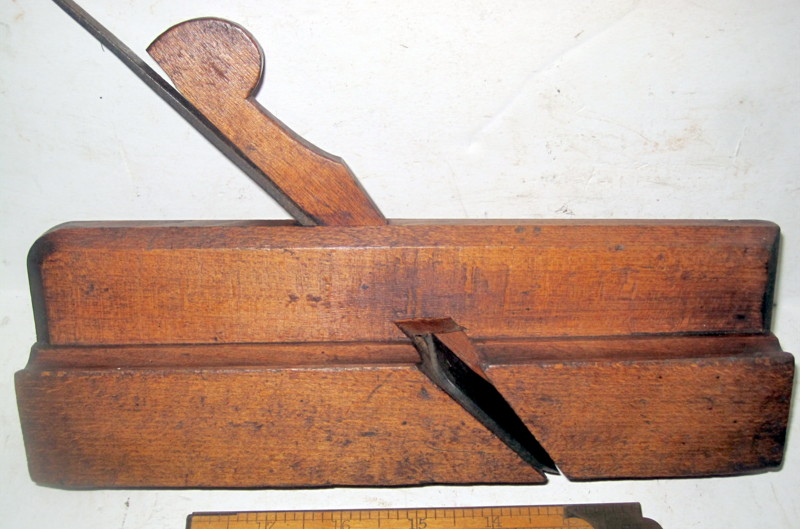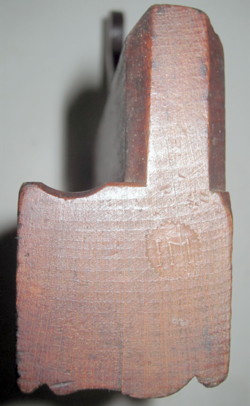 Price -
$50.00
RETURN to forsale list.