Item WP21 - Scottish Barrel Plane.
This beech wood barrel plane is typical of the genre, which appears to be endemic to the North Sea fishing villages in Scotland. Here a lot of fishing was historically done for herring, mackerel, and such, which were usually split and salted down in barrels shortly after catch. A prodigious number of wooden barrels were needed for this largely 19th century enterprise, and barrel planes were commonly made local to this activity. The planes are constructed similarly to ordinary cooper's head shaves, but typically have side handles screwed and attached to the body with sliding dovetails. The most unique feature is the presence of a concave sole (front to back) and a slight concave blade edge. My understanding is that the planes were used to plane the outer sides of the casks after assembly by passing the plane transversely across the staves to smooth the outer surface. Alternatively the cask might be rotated by machine while the plane was held stationary to affect the smoothing. This example has a body, side handles, and wedge all made of beech. The body is 6 inches long and 2 ½ inches high at toe and heel, and is 3 ½ inches wide. The side handles give the plane a total wingspan of 11 ¼ inches. The Robt. Sorby blade is long and clean and is 2 ½ inches wide. This plane is fairly clean but has seen enough use to show wear at the bottom of the right side at the sole, and a pronounced depression in the wood on the left side top, behind the toe. This surely is due to wear by the user's thumb, with a smaller wear mark also seen on the right side. The wedge has some chipping to sides of a mortise running across its face, probably for mounting in some sort of machine. The plane is marked (twice on the toe, and once on the top and just behind the toe with "J. Shand / Torry / Aberdeen" in a circle, with "Torry" in the center. My research suggests that in the 19th century Torry was a fishing village just outside Aberdeen. "J. Shand" is more equivocal. It may be the name of a plane maker who is not listed in Goodman, or a place name in Torry. This is an interesting and unusual plane—good for a collection or for conversation. Of course if you casks to smooth, it could be useful. Good+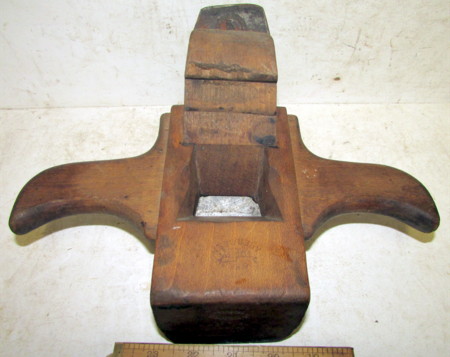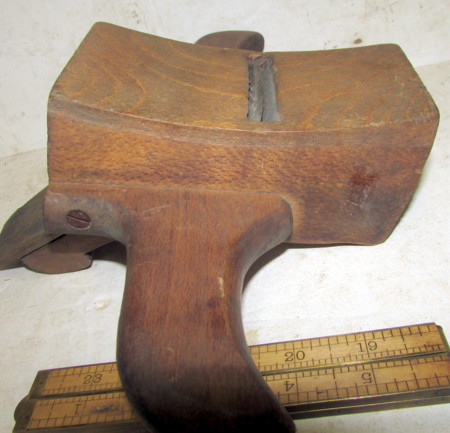 Price - $75.00
RETURN to forsale list.