Item S14 - Hinsdale Mfg. Co. 14" Tenon Saw.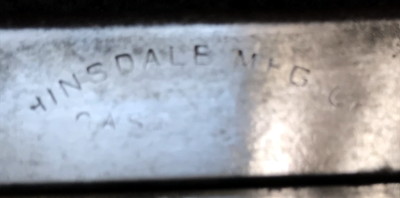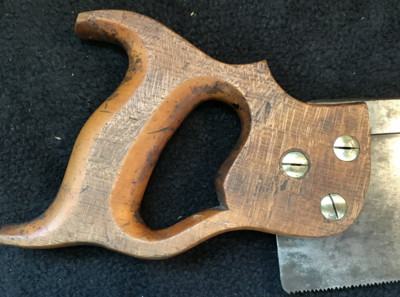 If you pick up Erv Schaffer's "Hand-Saw Makers of North America (an essential saw reference), you won't find a listing for "Hinsdale Mfg Co." Then, if you toodle around a bit online you will find a very few reports of back saws with the Hinsdale mark. But the speculation takes fancy flights from there, and tends to zero in on mechanics tool makers in the Hinsdale, Illinois region, especially a "Hinsdale Mfg Co." there – maker of wrenches and such—who are credited as the source of the saws. Whoa! Back up and go to the Hinsdale, New Hampshire historical societies and you will find that one of the local Hinsdale saw makers was acquired by C. E. Jennings back in the day. So go back to Erv's book and look under "C. E. Jennings" and you'll find that "Hinsdale Mfg. Co." was a mark used by Jennings, referring to the Hinsdale, New Hampshire location of one of their manufacturing locations. Now, go back to your computer and delete references to those saw websites that have erroneously pointed you to Illinois! Finally, look at this saw. It is a decent one, circa 1900, I'd guess, with a 14" straight blade having tarnish, but no rust or pitting. The beech wood handle is near perfect, with just a slight surface crack on one side, and no chips, but some dirt to clean. There are 3 brass saw bolts with slotted nuts. The blade is filed 14 ppi, cross cut and needs only a touching up. It is marked on the steel spine, "Hinsdale Mfg Co. / Cast Steel"It is a scarce but very usable saw Good+
For those interested in arcane tool history, the Town of Hinsdale, New Hampshire has a background of some interest. In the early part of the 1700s the boundary between the Massachusetts Bay Colony and the Province of New Hampshire was under dispute until in 1740 King George II waded in to decree a survey. This was carried out by surveyor Richard Hazen who laid out "Hazen's Line westward from Lowell, Mass. This cut off a section of New Hampshire from Northfield, Massachusetts and that section became Hinsdale, NH. Later, by 1791 King George III, decreed that the border between New Hampshire and the new colony of Vermont was the low water mark on western bank of the Connecticut River, creating Hinsdale, New Hampshire on the eastern side of the river and Hinsdale, Vermont on the left (Northfield, Mass south of both). To decrease confusion between the two Hinsdales, the Vermont one was renamed Vernon, Vermont in 1802. At one point on the western bank of the Connecticut River, the three states, Vermont, New Hampshire, and Massachusetts meet in a "three corners" situation. Subsequent damming of the Connecticut River inundated it, making the "three corners points" under water. By 1890 a subsequent survey was commissioned, and during a low water episode, the actual three corners point was determined. A carefully located way mark was established some feet away landward from the actual point was determined and a granite marker created above any future high water of the river. That granite slab can be seen here: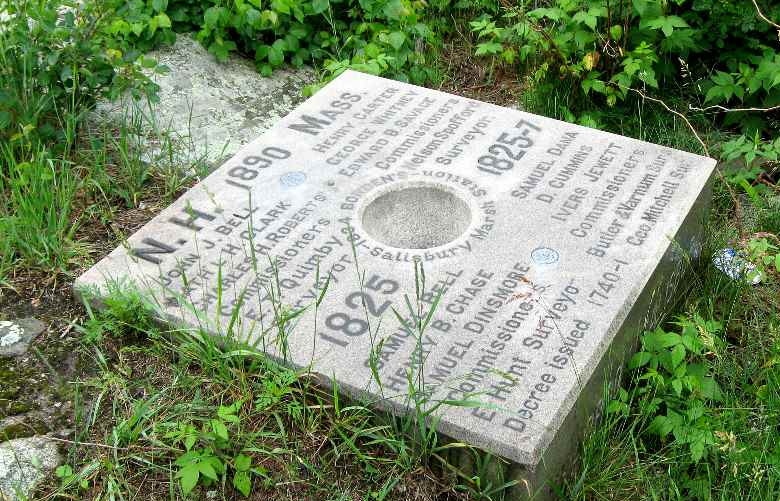 Note that that the Massachusetts surveyor for the 1890 survey was Nelson Spofford. This is the same Nelson Spofford who patented the famous "Spofford" brace, one of the best to have ever been invented. It is little known that he was an accomplished surveyor (He laid out much of his home town of Haverhill, Massahcusetts), and inventor (he patented calculation machines and survey instruments, as well as braces.
Price - $45.00
RETURN to forsale list.