Item S10 - W. S. & M. Co. Skew Back Hand Saw. Not Recorded.
On the web are a few mentions of saws (both back saws and hand saws) with medallions marked, "W. S. & M. Co.", but there seems to be little information about this company. It is not listed in Erv Schaffer's "Hand Saw Makers of North America." But Brian Welch determined that the initials stand for "Wilson Saw & Manufacturing Co." To my knowledge no location for this ompany is known, but speculation exists that it might be a Canadian firm. I recently found this example of a skew back crosscut saw with 26" blade, having the W. S. & M. Co. medallion. Fortunately, despite tarnish and some fine pitting, there is a mostly legible etching that locates this company in Port Huron, Michigan. From sketchy references online I surmise that the Wilson saw company was in business from at least 1905 until 1912 in Port Huron. During much of that time one Frank G. Cowan was an important leader, rising to General Manager in 1910. The company adopted a pro-union stance, urging folks to buy goods with a Union-Made label. In an issue of the "Carpenter" published in 1906 they submitted this piece of doggerel:
"Honor and Shame from no condition rise.
"Act well your part—there all the honor lies
"Wilson's part:--making saws tough and true,
"Your part:-- demand the Union Label,
"Now its up to you."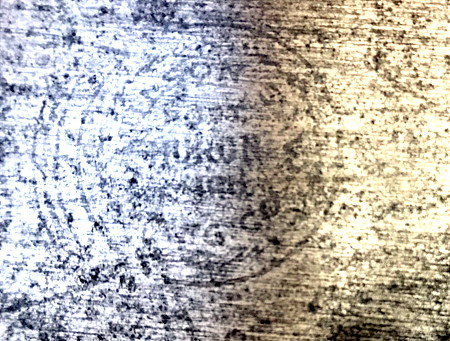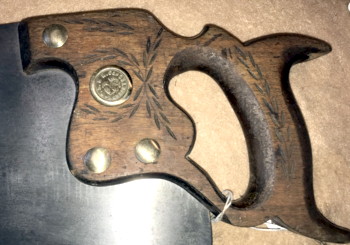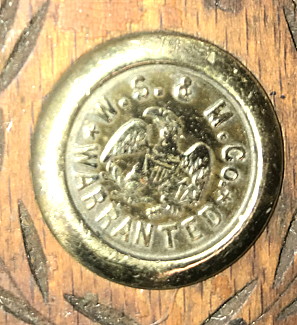 This saw has a thick saw plate. It is straight and needs cleaning. When cleaned the etching should be readable. It is a large and elaborate etching, nearly 10 inches long, with a significant paragraph of warranty. The beech handle has some impressed wheat carving, much original finish, and suffers only a slight chip on the underside of the upper horn. There are 4 brass saw screws with slotted nuts, and a medallion the company initials, "warranted", and an American Eagle with shield and arrows. It is a quite scarce saw for a collection. Easily Good.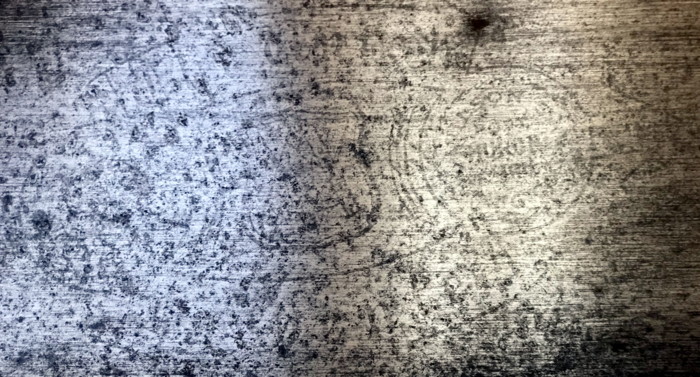 Price -
$50.00
RETURN to forsale list