The Summer (July) Brimfield Fair. Friday, July 15, 2011
The only new field to open on Friday at Brimfield is the venerable J&J Field--the initial site of the Brimfield Antique Fair. Following the death of the founding father of Brimfield, his two daughters have run the show, and by general acclamation, have run the business down by their high-handed attitudes toward dealers, and changing of hours (starting 2 hours later these days). So, today the Field opened with only half the number of dealers and less than a third of the expected numbers of buyers. While tools were not in abundance, the tool buyers known to me were practically non-existent, so I had a fairly decent day.
When the field opened at 8:00 am it took only 1/2 hour to cover the field, and in that time I bought only so-so Stanley No. 5 and No. 6 planes, and an older unsigned bevel. Right at the end, though I found a really nice Stanley 6C and a good RJ bit box that included a couple of spurious bits. The prices were right, though. Getting ready to leave the booth, I spotted a pretty ratty box with partial label. The box proved to hold a Brown & Sharpe No. 790 plumb bob in the 12 oz size. Like the much more common Starrett, this bob is a mercury-filled one, and is not often found--especially in its original box, and in great condition. So it when into the bag as well.
Then began a slow and methodical search through each dealer booth on the field. In unlikely places I next found a small Irwin box, containing a set of five auger bits made especially for electric drills, with a colorful red plastic wrap. I'd not seen this item before, and so bought them. From a dealer who carries tools from time to time I bought a nice example of the drill stand for a set of twist drills, sizes A to Z. This is a fancy copper washed stand and is quite decorative. The next dealer in line had some interesting rules, and from him I bought a pretty nice Sheffield, England shipbuilders double bevel that is very thick and made of a rosewood type wood. I thought it to be a good deal. Also I picked up two folding ivory rules, both unsigned. One is a two-fold, six inch rule with a round brass joint, the other a four-fold 1 foot rule with round brass joint. The condition of both is quite good.
Getting away from the rule dealer, I then found some saw related tools, including a 16 inch tenon saw with split nuts and a shapely handle--probably a Sheffield maker, a nice small saw wrest, and a W. Cresson (Phila) keyhole saw with rivets and a very shapely handle. Toward the end of my walk, another unlikely dealer had a barely used Stanley No. 48 match plane with all its finishes. His price was sky high, but he cut it in half, and the plane was mine. Going back to pick up the box of auger bits and 6C, I noticed that dealer had brought out a Stanley No. 71 router, in its box, and probably never used. So that joined my other tools as well, and it being 11 am, I called it a day to return home early enough to cut the lawn.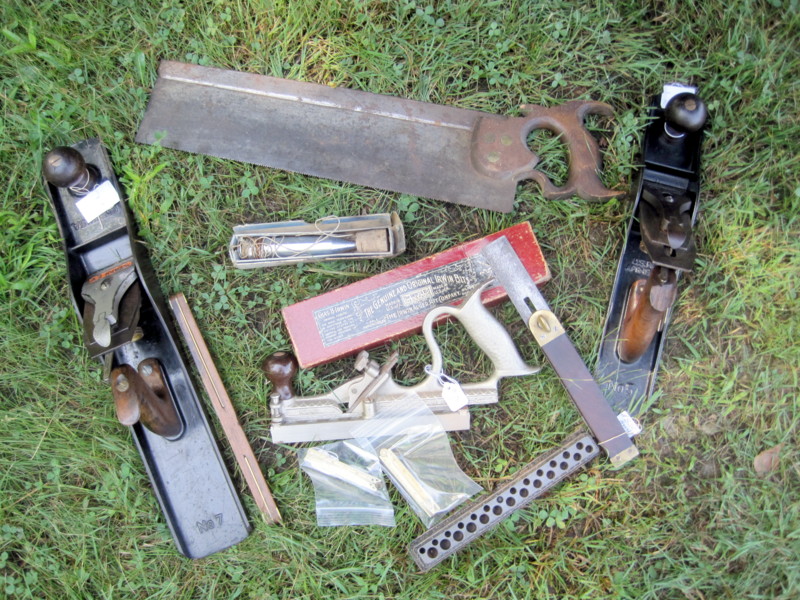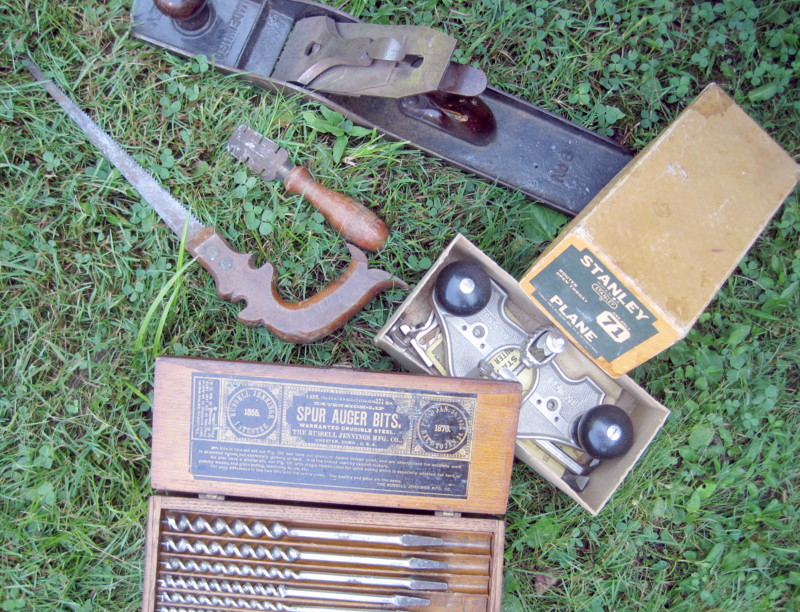 It wasn't the greatest day at J&J's, but it could have been much worse. So much for Brimfield this July. In September I'll try it again.
Sandy
Sandy