The Summer (July) Brimfield Fair. Thursday, July 14, 2011
Happy Bastille Day to all! Mine was spent on Mays Field at Brimfield in the company of my wonderful wife, and a crowd of eager shoppers celebrating a most wonderful day that featured a bright blue sky with puffy white clouds, temperatures in the low 70s, and bright colors everywhere. The only detractions were a field populated with about 60 percent of the dealers found in May, and a decided dearth of good, reasonably priced tools. But not to complain! These perfect days in July are rare, indeed.
The day started, as usual, at the back entrance to the Field, in a line of prospective buyers who are ordinarily unusually civil. Today, Richard Donnelly a folk art dealer from Barrington, RI, regaled us with stories of searching for glass eyes to populate the head of a large snowy owl he has commissioned--this to accompany the 5 foot sperm whale and garish 4 foot carved alligator in his living room. The time went quickly! When the field opened, the trek was on.
It took less than an hour to cover the thinly populated field, and zero decent tools had surfaced. One dealer had a number of framed prints he was spreading about, and one of them caught my eye. It was a sporting print (not old) of a hunter taking a shot over a snowy landscape at an escaping grouse. The style looked familiar, and on examination proved to be a print of a Chet Reneson water color - "Winter Grouse," signed in pencil by the artist. I own a similar print, "Partridge Tree," by Reneson.
In the summer of 1967 Barbara and I were living in a hovel on Blood Street in East Lyme, Conn., and Chet and his young wife were living across the street--we had occasion to get to know each other briefly. Then, he was a struggling sporting and wildlife artist. Today he is an accomplished artist whose original paintings sell for thousands of dollars. The dealer quoted a reasonable price for the print, and now it hangs on my wall, facing "Partridge Tree."
Continuing a second traverse of the field I finally found a tool to buy, but I really don't know what it is. Obviously modified from the blade of an early (Sheffield) straight razor, the edge has been filed to produce a saw-like tool with spiky teeth maybe 1/4" deep. The blade is mounted in a not-old alder branch segment, and it looks like a cross between a short-toothed comb and a saw. It is old--maybe early 19th or late 18th century--and is seductively interesting. At last a tool! But What?
Not too long later I finally spied some real tools. This was a basket of wooden planes, and a few marking gages. All simple molding profiles, there were about 25 planes here. Some of them were real dog meat--destined for the wood stove next winter--but there were enough good beads and several H&Rs from the same maker to make them interesting. The dealer was happy to quote an extra low price, and I was happy to get them.
After meeting up with Barbara for coffee, we strolled the field together. She picked up a hand eggbeater for the kitchen and a nice leather hand bag. I enjoyed talking with a sporting dealer from Maryland who had two duck decoys that were attributed to Bob Sellers of Silver Spring, PA. Now Bob Sellers was my step-father's brother, and I knew him well and had hunted with him many times in my youth. I own three decoys made by him. These did not quite pass the muster, although they carried the mark of a Maryland gunner with whom I know he had hunted. So I passed on the decoys. But the same dealer also had a chromolithograph of a scene (Covey Rise) by A.B. Frost. This was one of a set of 12 sporting prints by Frost, produced by Scribners, in the early 1900s. I own four of the 12, and now the fifth is hanging next to the four, and under the Reneson print.
A short stroll further found a dealer who had some Wedgewood jasper ware. Barbara likes the older examples of this stuff, but the pieces here were too new to suit her. But there were also a number of small Wedgewood tiles that we had never noticed before. These were fashioned with various scenes of early Boston on one side, and yearly calendars on the other--1901, 1909, 1918, etc--and were attractive. Selling in the $80 range, I thought they were neat. Two dealers further on, here were another three from the same series--but at $25, in lesser condition. Five dealers further on we found seven more tiles from the series, and a listing of the entire Wedgewood output of these commemorative tiles--$95 each. How remarkable it was, to find three dealers having uncommon tiles, selling them within a radius of 150 feet! Chatting with one of these dealers, I found he was from northern Vermont, but his family came from the same little town in which I was born and raised in southeastern Pennsylvania. There are moments at Brimfield that truly make it a magical place.
Our last stop was at a toy and BB gun dealer who plays in a local Cajun band that our oldest son once played bass in. We know him well. But across from him was a gun dealer who turned out to have some nice tools. I quickly gathered up a Union No. 41 match plane, a Stanley No. 90 bullnose plane, and an exquisite little jeweler's hammer with cross peen. This concluded the tool day, and we retired to Sturbridge to enjoy a lunch with my sister from Northampton. It was her turn to buy lunch, which made the day!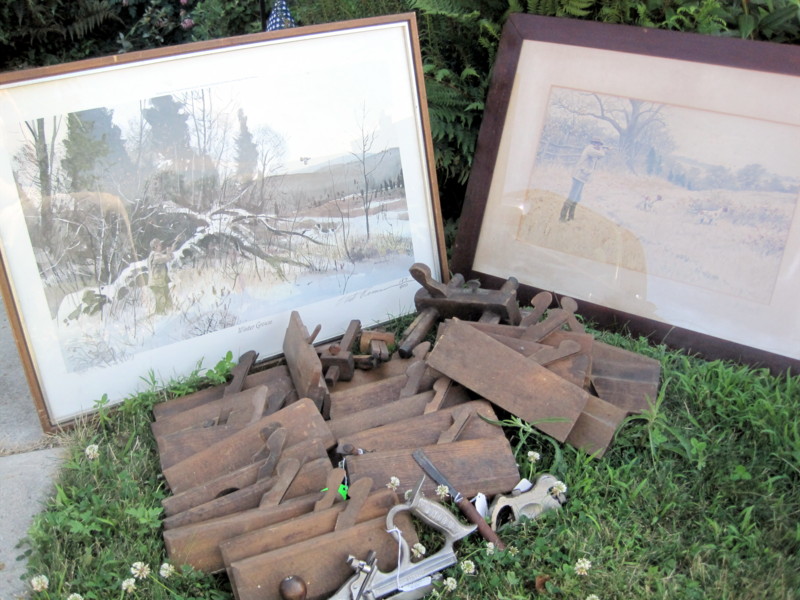 Tomorrow, one new field--J&J's at 8 am.
Sandy