The Summer (July) Brimfield Fair. Tuesday, July 12, 2011
Always the hottest, stormiest, and most uncomfortable of the three annual Brimfield Fairs, the July meeting is known for its reduced dealer enlistments, and smaller crowds. The only mitigating factor (for us dirty old men) is that the young ladies are attired in the skimpiest costumes, and this more than atones for the hot and uncomfortable weather. Today, the opening of the July edition of the Brimfield Fair held true to two of above axioms, sans only the stormy weather. Yes, it was sunny and hot (but with a refreshing breeze at times), and yes, there was abundant female flesh in evidence so the day was not bad, at all. The dealer population was down by at least 40 or 50 percent compared to May, but the buyer crowd was also reduced, and that sort of reduced the competition, so to speak. I left the house a little earlier than normal (3:15 am), and a good thing too. There was an unannounced detour getting onto the interstate, which caused an unexpected trip through the wilds of Fall River, Mass, and eliminated an expected early arrival. But I arrived at 5am sharp, getting a primo parking space.
My first field is always "The Meadows" on Tuesday, and even before getting to my favorite dealer, I picked up a nice 6" Kimball draw knife. The favored dealer welcomed me into his tent before he opened, so I was able to cherry pick his tool finds, and gathered up a couple of 18th century wood planes, a 6" B&S combo square, ratcheting corner brace, and No. 95 Stanley edge trimming block plane, and two interesting small squares. Both of these had ebony handles. One, a 3" try square is unmarked, and probably English. The other is a Winterbottom's patent try mitre square with two patent dates, and is the first Stanley square I can remember seeing with an ebony handle.
With these tools in tow a further walk through the field produced minty examples of Stanley 151 and 63 shaves, and a funky--apparently cut down--version of an early L.L. Davis wooden level. These things are early, and not particularly common, so it is an interesting find. This just about closed out this field, so the tools were unloaded into the truck, and my path led me East, toward the Sturbridge end of the Fair. This first group of tools is shown below.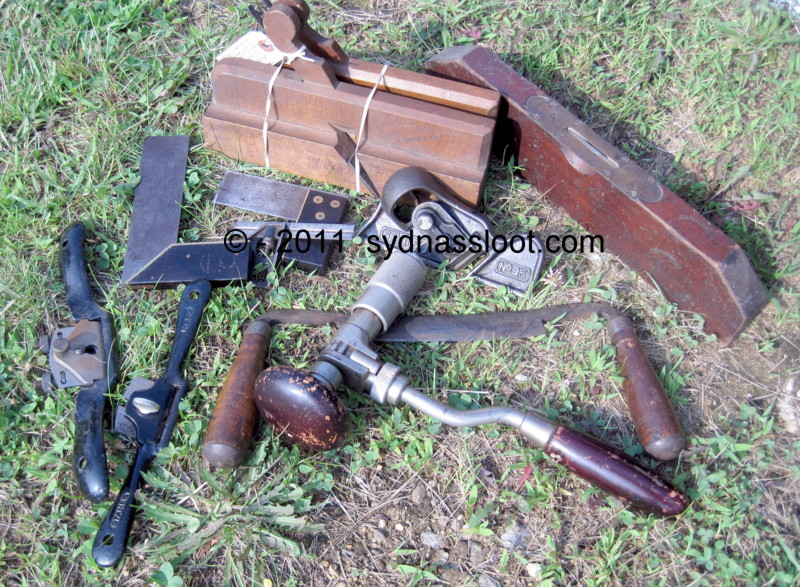 My journey to the East produced zip in the way buyable tools. So, with a wasted hour behind me, I worked back West, finding some of my usually productive honey holes non-existent, and garnered only common Stanley folding rule, a Millers Falls jack plane with rosewood handles, and decent mitre jack worth buying. This trip extended all the way to the western boundary of the Fair, and it was surely depressing to go so far for so little. The only positives were meeting up with a good bunch of other tool seekers, and chatting with them. They professed the same results as me (but you really can't the tool guys that much!)--so tools seemed to be scarce. Since it was getting onto 9 am, I unloaded my pitiful findings in the truck, and then headed back to where I started for a second perusal of the same ground. Here are the few products of a couple of hours of walking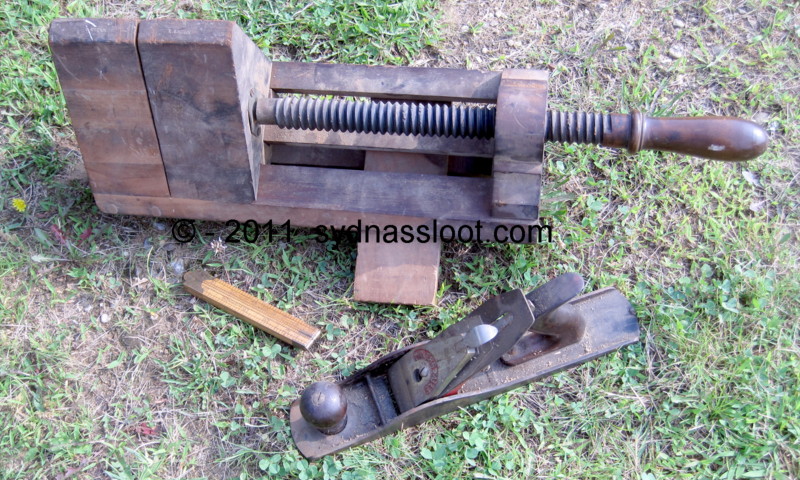 Back in the Meadows Field, my luck quickened, and in pretty short order I picked up three wooden planes, including a nifty apple compass plane, a 1/8" grooving plane with flat chamfers, and shapely stair builder's saw that will clean to be quite nice. The dealer was quite interesting in my take on these tools, as he didn't know a lot about them, and the result was that a good deal was forged. Further on, another dealer I'd visited earlier, had a pile of nice hammers, but my object was a unique Cooper's hoop driver. We closed a deal on that, plus a Stanley (England) router plane in its box with all the parts. Finally I went back to the dealer where I started, and relieved him of two wonderful saws the he had. One was a very crispy Atkins, and the other a thumbhole D-8 with 4 1/2 tpi rip filing. I was happy to get these, and head back to the truck for some more unloading and a refreshing cold beer.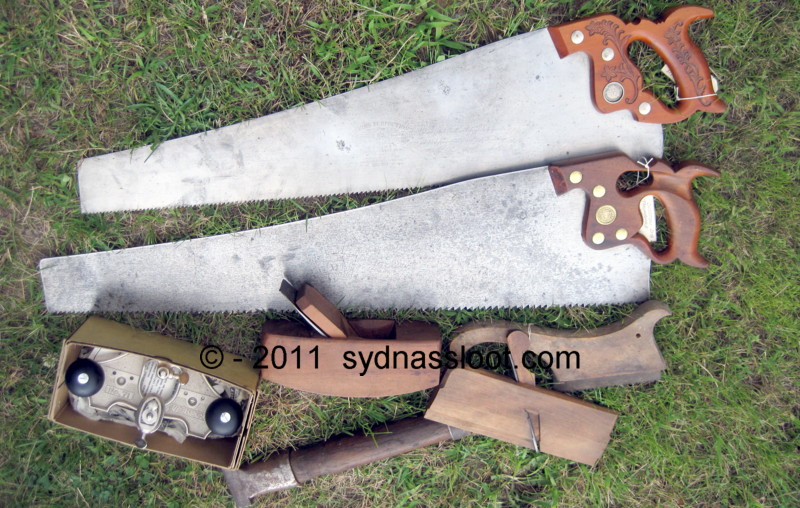 Refreshed, it was time to head back to the west on Rte 20 for the opening of two new fields (Dealer's Choice) at 11am, and Brimfield North at 1pm. These are historically spotty fields for tools, and with the day's reduced dealer participation there wasn't much hope for a big score here. These fields, however, are pretty rich in dealers that have scrimshaw, and nautical things, so at least I could count on looking at some interesting, if pricey pieces. True to form, there wasn't much in the way of tools at Dealer's Choice. I picked up only a JE Childs (RI) side bead plane, and a 12" no 10 Stratton Bros level (from a scrimshaw dealer--he gave me a good price), but there was lots of time to chat, and line up some customers for some of my nautical things. By the time Brimfield North opened, I was pretty beat from the heat and all the walking--hey, I'm 72 years old, and have had two heart attacks. Again, there were minimal decent tools on this field, but I did buy a Stanley No. 90 marking gage IOB, a No. 98 side rabbet in wonderful condition, and a newish brass bodied instrument maker's plane with ebony wedge. This added to a neat walrus ivory bodkin finished the purchases for the day.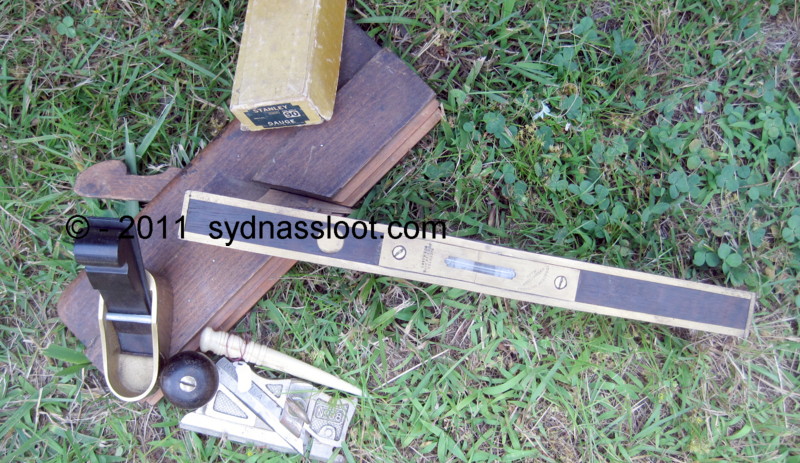 So, with these tools in tow, it was back to the truck for the 1.5 hour drive home, and some time to relax before heading back to Brimfield tomorrow for the opening of three new fields.
Sandy