Thursday
September 4, 2008.
I've just returned from another 3 hours of driving, and 3 hours of walking through the hot and humid Mays field at Brimfield. This is a large field, although there were quite a few empty dealer spaces today, it was still a decent turnout. One perception is that the fuel prices have deterred some of the distant dealers from making the trip. I talked to several dealers who come from afar (North Carolina, Michigan), and they tell me that for bringing a loaded van, they incur about $800 to $1000 in fuel costs. Add to that the living expenses for a week, and the price of space in a field, and you can see how they will have to do some significant selling to make a reasonable profit.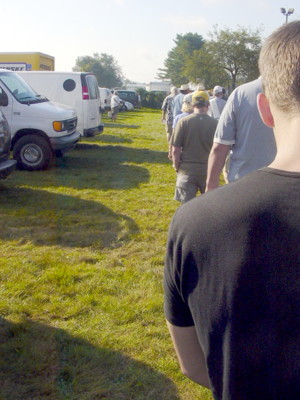 As usual, today I snuck in the little used "back way" to Brimfield, eschewing the inevitable Thursday morning traffic jam on US Rte 20. Mays opens at the civilized hour of 9am, so I could enjoy breakfast with my wife before leaving home at 7am. I like to enter at the back of the field, where folks waiting in line seem to be more congenial and polite than at the front.
Here is the line, moving to the gates (near the distant vans), after they opened at 9. I'd guess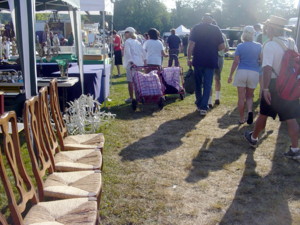 the line was a couple of hundred yards long at the start. When you pay your $5 at the gate, and enter, you have to develop a strategy to cover the field in a systematic and efficient way. I think studies have shown that on entering such a place, most (right-handed) people turn to the right. So, I go left. This is the scene this morning, to the left, as dealers quickly try to get their wares out of their trucks.
I figure that most of the dealers are anxious to put their best stuff out first. And, since there are no dedicated tool dealers on this field, their tools won't come out right away. So, I take my time. There weren't all that many tools out today—the pickings were pretty slim—and by the time I'd traversed half of the field, I'd found only three, that for reasons of interest, condition, and price, seemed worthwhile. These were, first, a funky slater's stake that had been fashioned from two old rasps, forge welded. Of course, the seller had no idea what it was, and surprisingly priced it very low. Usually dealers tend to put high prices on things they know nothing about. Next was a Worth draw knife in tip top condition. Lots of folks ignore the Worth marked tools, not knowing much about them. But this was a brand name of the Bigelow & Dowse Hardware Co. of Boston. Most of the "Worth" tools were made for B & D by Peck, Stowe & Wilcox, and are quality tools. I'd never turn my nose up at a "Worth" brace, draw knife, or chisel. The final purchase was a mahogany level by Lambert, Mulliken & Stackpole of Boston. These folks did business between 1852 and 1855, and this fairly standard level has the eagle imprint that marks it as a fairly early one. The best feature of this level is that it is housed in a sturdy pine tube that has kept if mostly free of the dings and wear that old wooden levels usually show. So its condition is quite good, and the price was reasonable.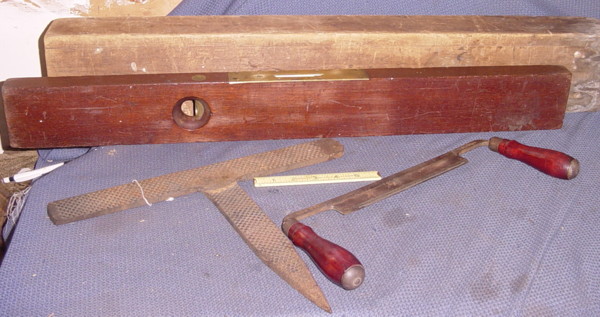 Completing one round of the field, I really hadn't seen much in the way of decemt tools. Sure, there were lots of boxes of junker wood planes, off brand iron planes, but little else of interest. It was more fun to stop and chat with dealers, explaining some stuff, learning some other stuff. Having developed more nautical interests, I enjoy talking with knowledgeable guys like Andy Jacobson and Richard Donnelly. You can learn a lot at a flea market.
After going back to claim my new level, I was heading to the truck, and spotted a dealer with some interesting looking things. After passing on a hay knife presented as a "whaling tool", and a hay tester as a "harpoon" he pointed to a group of wooden smooth planes that he claimed had lignum vitae bodies. They weren't in too bad condition, and he was willing to sell them at a third of his marked price. Then, presented with an even lower counter offer, they were mine. One of these, is in fact, lignum, and one rosewood, but the others are ebony. Now I need to find some whalebone to fashion some new wedges. They would look great!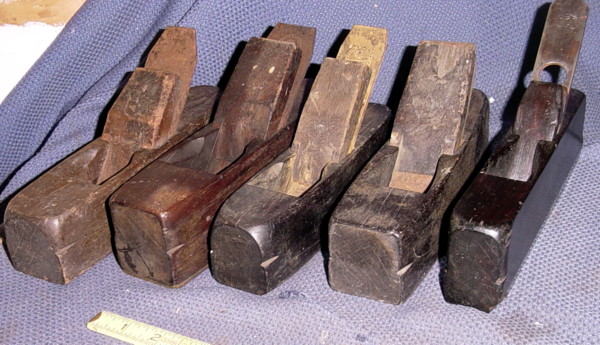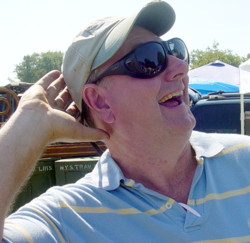 After offloading at the truck, I made one more circuit of the field. Nothing really spectacular showed up. I had a good chat with a dealer who had gotten back into collecting tools (but wasn't selling them). He had recently picked up an early Stanley No. 1, sans knob, that was a good find, and he had a mahogany stuffed English jack sized infill plane, plus a quite nice rosewood plow plane from Albany. They were fun to see. I also ran into an old dealer friend, Bill Joyce from Milo, Maine—not far from my camp. Bill is a good guy, and he will be in the parking lot at LFOD in a couple of weeks, selling a pile of tools that have accumulated in his basement. He is one of those guys who have an eye for those quirky hand forged 18th century tools.
I had to meet my sister, Ann, who lives in Northampton, Mass for lunch in Sturbridge, and so started back to the truck for the last time, planning on going back to the dealer with the ebony planes for some ship builder's tools that he had. En route I saw an old wood, ram's horn scraper in an old guys booth that was appealing. His price was just too high. But he did have a very old wood brace, probably American, with an unusual steel chuck and hand filed fixing screw. This one was fitted for the flat bladed tangs of the very early bits. It is in very nice condition, and he came down on the price to the point that I could afford it. So, it went into the bag.
Then I stopped to chat with a Vermont dealer from whom I'd bought a Victor block plane two or three years ago. He had a very nice old Underhill slick (a 3 ˝" one) with the early "G.W. Underhill & Co" mark (1838 -1852). His bottom price was a little high for me. But it had a fabulous handle, and maybe I'll go back over there tomorrow to see if he is still around. He did show me a whaling toggle harpoon that was a good one, and which he had sold for $800 (good price). I recognized the mark (J.&T.D) as that of the New Bedford blacksmith brothers James and Thomas Durfee, who were partners for a few years around 1850. Too bad for him, but that info could have gotten him a better price for the harpoon.
Again, on the way back, I dropped by another dealer who has neat stuff, and picked up a 24 inch cloth measuring rule, just for the mark on it – "manufactured by F.W. Hale, Henniker, N.H." Now, I learn from DAT that Hale was "a storekeeper and traveling merchant who marked yardsticks as their maker." Well, I've got one!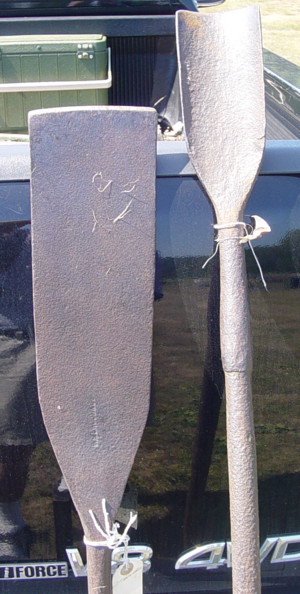 My last stop was back at the dealer from whom I'd bought the exotic wood planes. My eyes were on two ship builder's tools that are unique in my experience. One was a large gouge, with a very long (6 feet) iron handle that had long ago been forge welded to the gouge socket. The other was a 4 inch slick, again, with a long handle (not forge welded—one piece). It is maybe 5 feet long. This one is marked on the blade, but I can't yet read the maker's name. I think they are fabulous old tools and are surely early 1800s. While looking at these, I spotted a small and early swivel barb harpoon, very similar to some in the New Bedford whaling museum (picture with the brace above). This one is of a size that was used by whalers to harpoon porpoises for practice (and food). When I put these tools together, the price for all was cut by half, and made them a good deal, IMO.
So this ended the day. My sister and I had a great lunch together, and that made it more than a good day. Tomorrow the Brimfield show ends with the opening of J&J's field at 6am. Come along!