Wednesday
September 3, 2008. The second day of the September, 1908 Brimfield Fair is history. And I survived it! Actually the day went pretty well, and even though the number of tools was modest, the quality or interest factor was agreeably high.
Wednesday at Brimfield witnesses the opening of 3 "new" fields—New England Motel at 6 am; Heart of the Mart at 9 am, and Jean Hertans at noon. The "new" is in quotes, because some dealers move from field to field, one day to the next. So, if you go to Dealer's Choice and Brimfield North on Tuesday, you will see some of the same items at the fields on Wednesday (and on Thursday and Friday). I find this a little annoying, but quietly rejoice in the knowledge that it costs these repetitive dealers about $300 per day to hawk their stale merchandise.
It was luxurious to sleep this morning until 4am, and after a quick drive, I arrived at New England Motel just as the gates were opening. A good thing too! Three or four "tool guys' converged on one young dealer from Vermont right at the start. This fellow usually has some interesting stuff, but in the two or three years since he has been coming to Brimfield his prices have risen. Today, the "galoot" t-shirt I wore paid off, since he picked me right out as a tool guy, and pointed to a plane high in a glass covered case that I might have otherwise missed. He pulled it out, and it proved to be a "minty" (thanks Patrick) Chaplin's patent smooth plane, with the uncommon throat adjustment, and checkered hard rubber tote as made by Iver Johnson. It is better than the one pictured in Smith's Ptampia I—and right off the bat, "made my day."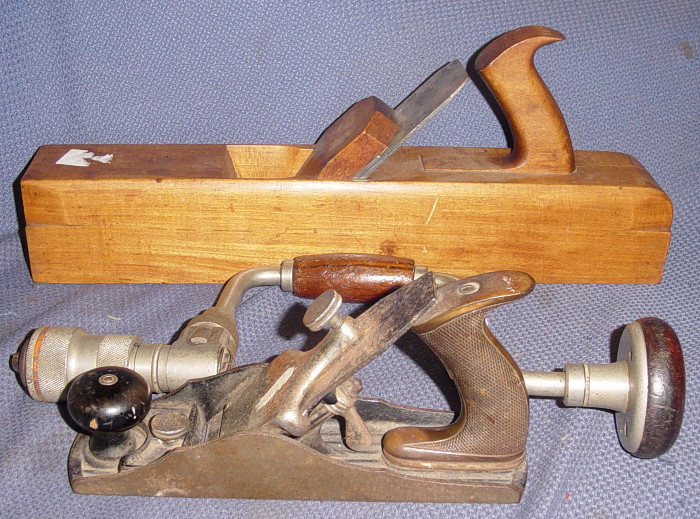 The galoot t-shirt, by the way is a good thing. Numerous dealers through the day recognized what I was looking for, and were quick to ask me to, "look at this," or direct me to a nearby dealer who had tools.
The Vermont dealer also provided me with a very clean cherry jack plane, and a decent Stanley brace with the heavy duty chuck.
What followed, however, was slow-dom. Nothing emerged of note, except for a decent mesquite caulking mallet. So, much of my time was spent looking at cases in the "glassy" and jewelery dealers for small rules and such. No luck there, but plenty of conversation with pleasant people—both dealers and buyers. About this time Tony Seo and Walt Quadrato made appearances, and we had a nice time chatting, and comparing notes.
Next on the list was "Heart of the Mart" that opens at 9. It is not a long distance from the New England Motel, so today was easy on the legs (6 miles today, rather than 10 miles yesterday—courtesy of my Garman GPS). This is a field that generally is not tool friendly, and today was no exception. The pickings were slim. My first buy was just an "ice breaker." It was a decent type 1 Stanley No. 48 match plane, but was in kind of ratty condition. The blades were right, but it is dirty, and some japanning is missing. It will clean up, and a user could enhance it. The asking price wasn't that bad--but was still too high, IMO. A 25% lower counter offer was met with a midway quote. This is when, if the tool is not that important, you walk away (always politely, with thanks), and sure enough, after two steps to the west, the dealer capitulated. In Maine, this is called, "dickering." When the dealer calls you back, be courteous, explain that you have no malice, and ask about his wife and kids. All will be well!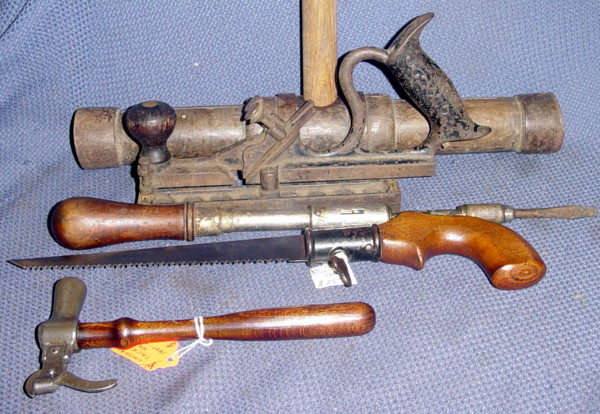 With one tool in the bag, things did not improve rapidly. But, moving to a dealer from North Carolina who sells pricey tools, over priced, I did do some business. Passing over a Stanley No. 8 jointer (type 8) at $295.00! I did buy a small hammer/tack puller that is neat, and an unusual pad saw with heart shaped fixing screw. We discussed the pros and cons and cleaning for a while, and this was a worthwhile conversation—hearing an over-cleaner's views on cleaning.
A repeat walk through of Heart of the Mart, resulted in little more than a long conversation with a decoy dealer, and another one with a nautical art dealer. At the end of my time on the field I came across a lady from Michigan selling a variety of decorative arts stuff. She had a blacksmith trade sign in the form of an anvil—and I bought it. It is kind of neat thing. And appealed as a different, and interesting "tool."
In the brief hiatus before the opening of Jean Hertans at noon, I traveled back to the first field of the week—Quaker Acres, and recovered a nice example of a type 1 Yankee No. 30 spiral ratchet screw drivers. These early ones are distinctive, having a beaded handle, and a sliding selection button without knurling. For me, given the nice condition, it was a satisfying find, since I like older North Brothers tools.
The noon opening of Jean Hertans' field is a real hodgepodge. Dealers are not supposed to expose their wares or sell things until the bell rings at noon. The buyers, however, can freely circulate through the tree shaded field, attempting to coerce the dealers to break the rule. Generally, this is not a tool friendly field, and those that exist are on the high side with respective to price.
Today was not an exception. I passed several tools (Stanley No. 1 @ $1250.00, two No. 2's @ $300.00, some pricey smaller spoke shave and block planes, two wood jointers @$150.00 each, etc. I did buy a very nice Underhill 3 1/2" slick with original handle, and a rosewood handled Stanley scrub plane. The slick had been offered last July at a very high price, and today the tag was somewhat lower. A request for "best price" brought it down to a reasonable level, and my lower counter offer was accepted. It is a good tool. The scrub plane was above average in quality and price, but it came down enough, with some dickering, to buy it.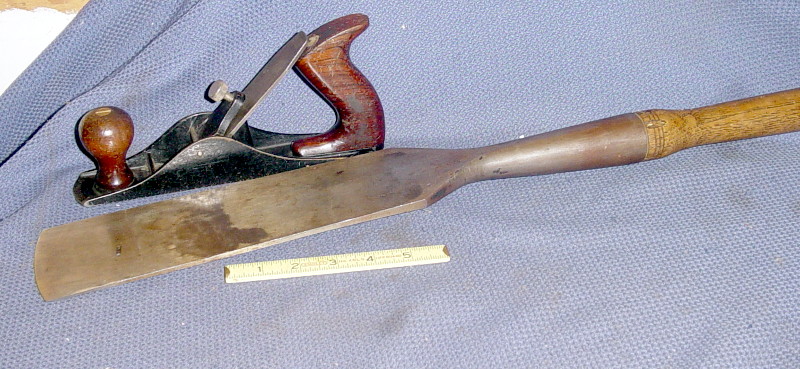 So that was the day. I was happy with the quality of the tools, but not the quantity. But, eh, tomorrow, with the Mays Field opening at 9am, and the prospect of meeting my sister for lunch in Sturbridge, is another day.