B25 - Horn Handled Gimlet.
The nicest Victorian era gimlet that you are likely to see, this one has a German pattern blade that is decorated with two forged "donut" swellings on the shaft below the square tang. This is affixed to a handle that has a curved top and flat bottom and is made of black horn having streaks tan in it. The handle is capped with brass on its ends. Not marked with a maker or location, this tool was almost certainly made in Sheffield, England in the latter half of the 19th century. Ancillary to the cutlery industry in Sheffield, "vast amounts of …"stag antler, buffalo, ox horn"..etc were imported into Sheffield to feed this industry. In 1927, one observer of the Sheffield remembered seeing [fifty years before] "truck loads of black buffalo horns passing through the streets of Sheffield, having arrived from the United States." So perhaps Buffalo Bill had a hand in providing the material for the handle of this superb gimlet. This small tool stands 4 ½ inches high, and has a handle 2 ¼ inches long. You'll never see a nicer one! Fine.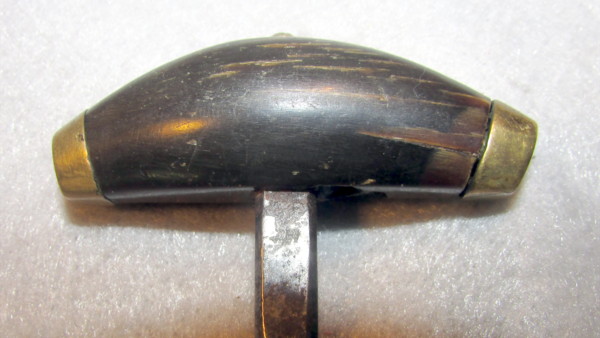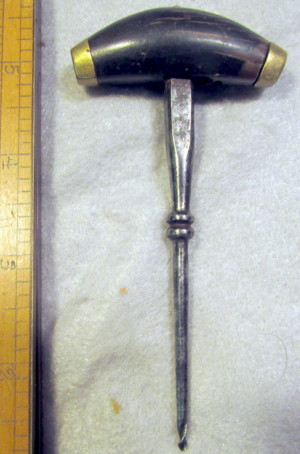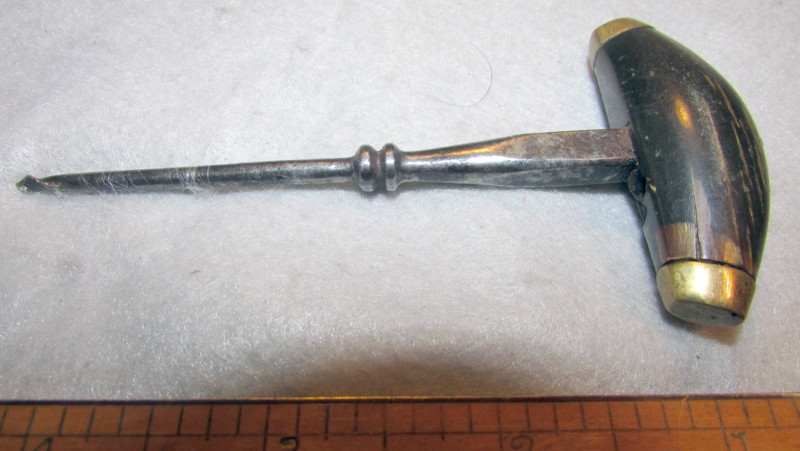 Price - $120.00
RETURN to forsale list.