The True Story of an Old Tackle Box

In 1965 I bought some old fishing gear at an estate auction in Haddam, Connecticut. Except for the greenheart fly rod (that was given to my Dad) the other stuff was put away.. Now, after 35 years and becoming an ardent collector of woodworking tools, I looked through the old tackle, and with help from a fishing tackle book purchased from MJD, managed to identify (I think) many of the items in it. The box contained paper ephemera, some ancillary fishing equipment (hand cloth, emery paper); weighing scale; large hooks rigged for trolling bait (probably for lake trout); spinners, feathered hooks, and a number of bass lures. The supposition (based on some of the paper, and the lures) is that the contents represent some of the equipment for a fishing trip to northern New England or Canada, where catching lake trout, landlocked salmon, and smallmouth bass would have been the object. The lures and paper material are all consistent of a trip date of 1912. The hooks on many of the plugs, however, had most of their double and treble points clipped--indicative of use in New Jersey, which, early on, confined lures to having no more than three hook points.
In September of 2000 I posted a message to a fishing tackle board on the web, pointing to the following descriptions of the items in the box. Literally within an hour all hell broke loose! My server was swamped, my home and office phone rang off the hook, and rumors apparently flew about the country about a great "hoax" being perpetrated on lure collectors. The upshot was, that within a week, a gentleman arrived at my door and paid an impossibly large amount for this box and its contents. The ten dollars spent at that estate auction was surely the best investment I ever made! What follows are descriptions of the contents of the tackle box.
THE TACKLE BOX -
The box is wood (undetermined species) and was covered with calf leather. The interior was lined with green linen, and divided into an upper compartment in the lid, and several deep compartments in the bottom. The barriers between the compartment were generally loose & need to be reglued. The leather cover was in bad condition, having been worn, torn, and chipped. A leather handle on the lid was missing. There was a metal plate on the outside of the lid for a name engraving, but appeared to be blank. The box had a lock, but no key.

The box had a footprint of about 9 x 11" and is 7" deep.
Hooks & Flies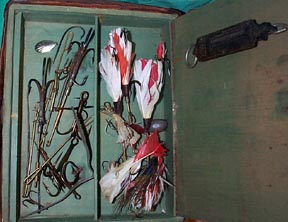 A fair number of large treble hooks rigged with brass rods and snoods that appeared to be for trolling or still fishing with live minnows or chubs. There were a number of treble hooks tied with bright feathers for spinner rigs. Some miscellaneous weights and lead strips. That is a weighing scale on the right. It was marked, "Hughes's Pocket Balance, Patent". The brass face was graduated to 25 lbs.
Spinners
From the top: (all lures have box swivels)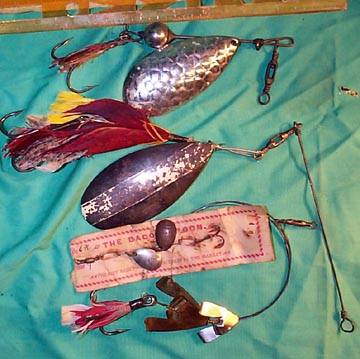 (1) Large fishscale pattern spinner (3 3/4 x 1 7/8") on nickeled weighted shank, marked, "Pflueger, Akron, O."

(2) Large 6/0 spinner fly with spinner marked "J.T. Buel, Whitehall, NY. Blade is 4 x 2"; dark with white stripe on front and gold with red stripe behind.

(3) "The Bacon Spinner" on card, marked Style "EN", #4. On both spinner blades, "G.H. Bacon, Pat US July 10, 1900, Canada Sept 23, 1900"

(4) Double spinner with fly and wire leader. Both nickel and brass spinner blades marked, (Pat. US Oct 1, 95, Canada Pat Nov 13, 96".
Immell Bait Co. "Chippewa"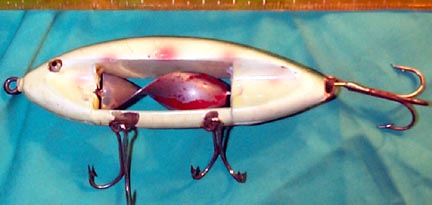 One of the more desirable lures in the box, this lure was in the musky size, and the offers for it alone reached 1K. Body length here was 5"--a larger size. The plug had nearly fully paint--green on top, white below, with faint red side spots. The internal twister had some red paint remaining on one side and is silver on the other. It was marked, "Pat'd Nov 1, 1910." There were two body double hooks and a trailing treble. The condition was near excellent with just a little crazing on the top paint, and some chips near the belly hook hangers. Note that the hook points were not clipped. This lure probably was not meant to be fished in New Jersey!
Coaxer.

1 1/2" body length, with single hook , red felt wings and red feather tail. Excellent condition. This lure, probably cast with a fly rod is a fairly common old one. I see these at flea markets fairly regularly.
Copper fish-shaped lures (2)

These were about 5" long, marked only, "Pat. Pending." The metal body was bent back on itself with internal flanges to provide action. I never really found out much about these lures.
Dowagiac Underwater.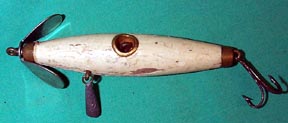 This plug had a 3 1/2" body length, with hanging belly weight, brass end cap, and brass cup hook holders. There was a trailing treble hook, but the side hooks were missing (New Jersey rears its head). The front propeller was bow-tie like and different from that of the next lure. This seemed to match almost exactly (the propeller looks different) the plug shown at the top of the picture in the left hand column of page 292 in Luckey (5th edition) as the earliest Dowagiac Underwater. There is about 10% loss of white paint. The buyer of the box considered this to be the cream of the crop. Almost certainly handled by James Heddon himself, this is one of only three of the earliest underwater Heddon lures known. It may date from about 1903. The value here is between 5 and 7 K.
Dowagiac Underwater.

Another early Heddon underwater lure, this plug had a 2 3/8" body length and brass cup hangers with single hooks. Silver paint was perfect. Exactly like second from bottom lure in the left hand column of page 292 in Luckey (5th edition) and in the picture at the top of the next column--except for single hooks. The shape of the propeller and the trailing small tabs were distinctive. Note the three single hooks, rather than trebles. A slightly later underwater plug, note the external belly weight is gone.
Dowagiac "Expert" Surface Lure.

This plug had a 4 1/4" body length, with blue upturned nose, white body and metal collar. The collar is bent and has lost much of its red paint. It is held by pins both below and on top. The lure did not have hooks, but brass cup hook hangers, and brass end piece. An extra collar of the same size was present and was in almost perfect condition. Paint is about 85%. This best corresponded to type D of Luckey, but with two pins. The tie is small, and the collar is painted. Another early lure, this one was a surface one, and is better known than the early underwater Heddon models.
Rhodes Mechanical Swimming Frog.

Made of rubber, with single leg hooks and double belly hook, this unmarked lure was 4" long overall and 2 1/2" long with legs drawn forward. There was an external belly weight. The rubber was stiffened, and slightly cracked at the bases of the legs, and somewhat misshapen. In its original form a jerk on the line pulled the hind legs of the leg forward.
Kent (Pardee) Frog.

This red cedar lure was 2 1/8" long in the body. It had the early bent back, round tip propellers fore and aft. Two body single hooks--one on each side--and a single tail hook. Glass eyes with yellow irises. The silver belly had been painted with a sloppy coat of ivory paint that will clean easily (some was slopped on the propellors. The original paint was 98%. This is almost identical to the picture of the Kent Frog shown at the bottom (left) of page 414 in Luckey. Except for added belly paint, excellent. It was a very early example. Note the three single hooks.
K&K Mfg. Co. Animated Minnow.

This very early jointed plug had lost more than half of its original paint, but was gold on the belly with green scale pattern on the top. This is a shame, because it would have been much more valuable in better condition. The body length was 3" and with the tail, reached 3 1/2". Three double hooks--all broken (New Joisey Rules) , and glass eyes with yellow irises.
Moonlight.

This plain white (luminous?) lure is of a woodpecker type, and was exactly like the bottom lure in the picture of moonlights on the upper left of page 450 in Luckey (5th edition). This includes the brass hook attachment cups that are offset as in that lure. Body length = 4". There were some chips in the thick paint, but not too many. Each of the three double hooks is broken--NJ again.
Paper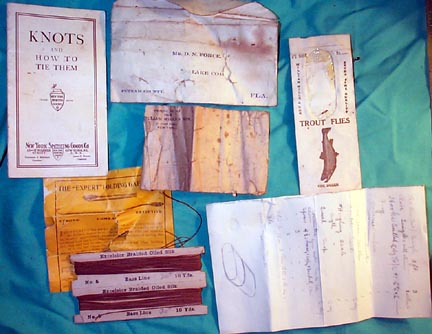 This tackle box came with a number of interesting paper items. These included: (1) a pamphlet entitled, "Knots and How To Tie Them" produced by the New York Sporting Goods Co (Powhaten R. Robinson, Pres). In addition to knots, there was substantial advertising in the pamphlet for the "Baldwin Camp Lamp" with many testimonials. All of the testimonials are dated 1911--giving a good idea of the date of its publication. The back cover had an ad for the "Dan Beard Tent." (2) An advertising brochure for the "Expert" folding gaff hook. This particular item was of interest to the buyer, since this gaff hook has not turned up in collections. (3) Two envelopes marked, William Mills & Son, fishing tackle suppliers, 21 Park Place, NYC. One of these is a trout fly envelope that originally held 1 doz. "extra fine quality trout flies." (4) An empty envelope marked "Mr. D.N. Force, Lake Com(o?), Putnam County, Fla." (5) A hand written list of supplies, including notes for snelled hooks, surface & underwater dowagiac lures, parmachenee belle flies, etc. (6) Two 10 yd cards of "Excelsior braided oiled silk Bass line, No 5."
Well, this was the box. Another like it will not show up in my lifetime!