Item SUR4 - Spencer & Co. (London) Surveyor's Compass.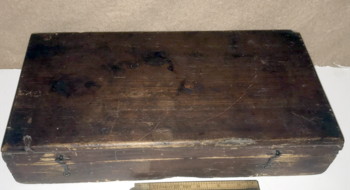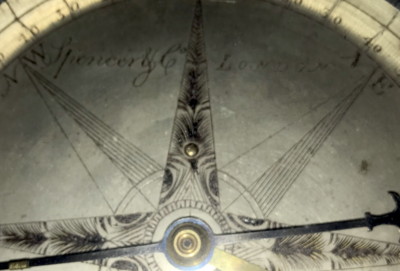 Spencer & Co. was a prolific maker of navigational (sextants and Octants, Spy Glasses) and survey instruments from the mid 1700s on through the 19th Century. Successor companies include Spencer, Browning and Rust, and Spencer and Browning; but they apparently also marked tools throughout their history with the original Spenser & Co that is found on this surveyor's compass. The instrument is in its original dovetailed box (somewhat worn, with a missing splinter at one end) and has its original vanes with sighting wire in good shape. The compass has a face 6" diameter with a 5 1/2" needle having an external lock. It works smoothly. The face of the dial is hand engraved with the arrows for the cardinal points more ornately engraved than those for the intermediate ones. There is a heavy degree ring around the perimeter which may be a replacement, for there is a second ring, much tarnished and probably original, loose in the box. The compass has a press-fit telescoping brass lid that is unmarked. The underside of the compass body has a Jacob's Staff fitting with an apparently replaced (but proper) fixing screw. The length of the compass, with arms for the sighting vanes is 15". The fixing screws for the vanes are present and original. The compass is not equipped with levels, for is there for provision for levels. External levels are required for use. The brass body and vanes have not been polished and retain their accumulated patina (and an occasional light scratch). The pine box appears original and has wear on the edges. The hinges and other hardware look original and are without fault. This is an old, and uncommon English survey compass in the American Style It is Good+

Price - $350
RETURN to forsale list.