Item SC11 -
Billings & Spencer (Hartford) Gun and Machinist Screw Driver.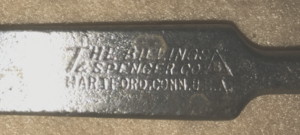 An uncommon screw driver, this one was part of a set of 5 (this is the largest, No. 5) produced by Billings & Spencer in the 1890s—it is in my copy of the B&S catalog from 1890. The screw driver is almost 11 ½ inches long, with a blade that is 1/2 " wide and 6 ½ " long to the top of the ferrule. The distinctive handle has a bulbous end that is deeply cut with lathe turnings. It fits a large hand well. There is some pitting on the blade, but the markings are clear, and it will clean to easily Good.

Price -

$20.00
RETURN to forsale list.