Item M9 -
Engraved Bone Spatula.
This interesting bone tool appeared to start its working life as a spatula about 7 inches long and 1 inch wide, with slightly rounded ends. Perhaps used as burnisher in working leather, it was then modified by cutting a beveled edge on one side of the terminal 2 inches. The leading ¾ inch of the bevel was then notched as a saw-like edge, for cutting or roughing up the leather. But the most interesting feature are two engraved snakes—one on each side. The snake figures are very finely engraved, about 2 ½ inches long, and are sinuously shaped, obviously traveling. The banded patterns, triangular heads, protruding forked tongues, and finely detailed rattles at the tails mark them clearly as rattlesnakes. Anything else that I could say would be speculation. It is certainly a conversation piece—unique in my experience. Fine
---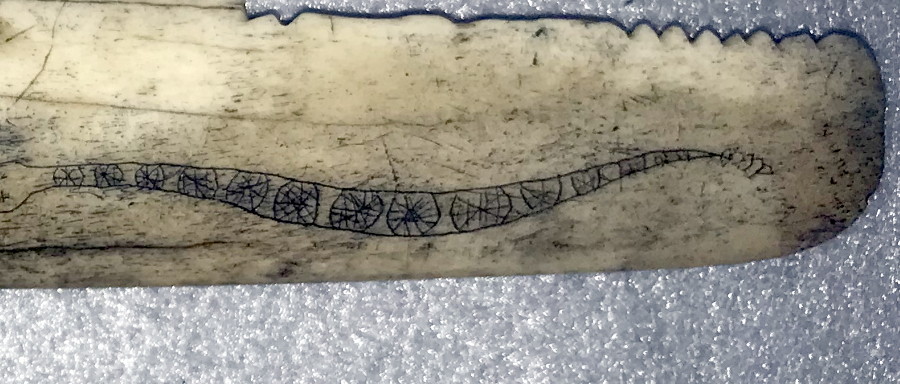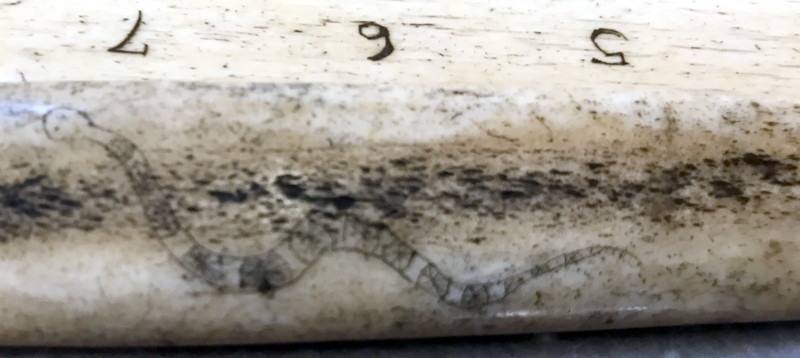 Price - $60.00
To order, email sushandel@msn.com
RETURN to forsale list.