Item M2 - Double Claw Hammer.
Double claw hammers are at best scarce items. Most that you see are patent ones (Nov. 4, 1902) produced by the "Double Claw Co." These typically show a separation between the upper claw, cast with the section bearing the bell-faced poll, and the lower claw, separately cast with the adze-eye lower section. I purchased this double claw example from a Brimfield dealer, who claimed that his father had used this hammer as long as he could remember. The unusual design has the second claw placed above the claw positioned in a normal adze eye hammer. The poll has a conical, not bell faced, head. The upper claw (which is cast, not welded) above the lower claw extends more rearward than in the typical double form. This hammer was originally painted black, much of which has worn from the steel. There are no markings that I can see. Scattered on the top of the handle, behind the handle hole are some pinhole casting voids, showing that welding has not occurred. The hickory handle appears to be original, and has suffered dings at its upper part from use. The head is 5 ¼ inches long with a face that is 1 inch diameter. The face has wear on the edges, but no chips. The handle extends 11 5/8 inches below the head. Good+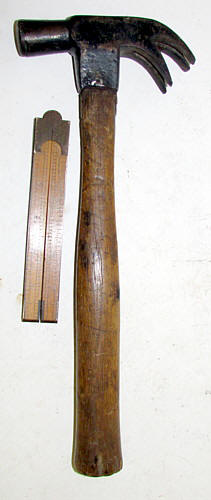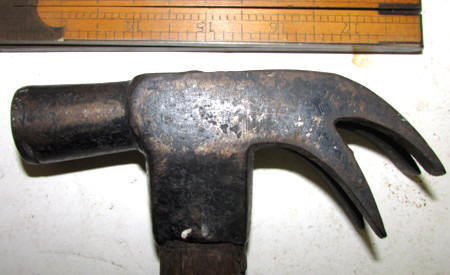 Price - $250.00
RETURN to forsale list.