L16 - Athol Machine Co. No. 438G Machinist's 12"Bench Level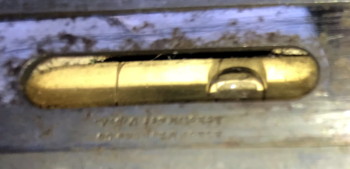 This scarce level, likely made about 1905, is in near perfect condition, with all of its original finishes. It is marked "Athol Machine Co." on its nickel plated top plate. Twelve inches long, it is in what might be its original slide top box, which has protected it well in its last 100+ years. This has one level and two plumb vials, both of which are perfect. It is not a common level to find, especially in this nice condition. Collection worthy,
and Fine.


Price -
$50.00
RETURN to forsale list.