MILTON NOBLES
Milton V. Nobles, from Rochester, New York, was awarded two brace patents in 1865—one for a split chuck design (#48346, June 20, 1865) and the second for a brace shaft design (#51660; Dec. 19, 1865). Today Nobles' patent braces rate a Pearson "B" for rarity. The braces shown here are both are marked with the Dec. 19, 1865 patent date, and, "Nobles Mfg Co." They appear to incorporate both of the 1865 patents and are very distinctive braces.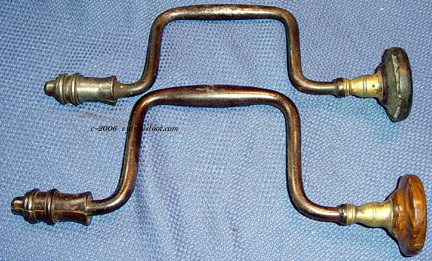 With the smaller in the 8 inch sweep and the larger with a10 inch sweep, these braces feature the split chuck, which closed by sliding a knurled ring down toward its mouth. The chuck is hinged at the rear. But these braces also have appealing thin wooden cup handles turned from beautiful cocobolo wood and a very ornate brass quills. Truly eye-catching braces!
The Nobles Mfg. Co. also manufactured well known draw knives in Elmira, New York. These tools have distinctive adjustable (non-folding handles), but their fit and finish don't have the quality shown by this brace. This brace was patented on Dec. 15, 1857 by Richard Watrous, who became a worker in the Nobles Mfg. Co.
Milton Nobles was born in Genesee County, New York, and moved from there to Elmira, New York where he helped to found the Nobles Mfg. Co. that was incorporated in 1866 for "the manufacture of carpenters' braces and a number of specialties in carpenters' tools." Nobles three-year old daughter, Clara, died in 1870. This may have had consequences, for Nobles sold his company in the summer of 1871 to a mostly new group of investors. The new company was called the Elmira Nobles Manufacturing Company, and continued to produce the same product line until March, 1877 when the building, machinery, tools, etc were sold at auction, and a new company, "Gillet & Co." used the space and equipment to produce augers and auger bits. Richard N. Watrous was listed as their foreman. Milton V. Nobles died on Feb. 7, 1874, at the age of 54, and is buried in Elmira's Woodlawn Cemetery.