John S. Fray & Co.
The non-"Spofford" Braces.
In the 1870 census, Fray is reported living in Bridgeport (he later moved to nearby Fairfield, Ct) with three children. He was married three times, the most enduring of which was with his third wife, Rebecca, who was 20 years his younger, and with whom he had no children. His brace and tool business (tool handles and drills were also prominent products) prospered until his death on April 10, 1916. He is buried in Mountain Grove Cemetery in Bridgeport.
Following his death the John S. Fray Company was ultimately sold to the Stanley Rule & Level Company in 1920 (and then transferred to The Stanley Works). The sale included property with 150 feet of frontage on Crescent Avenue in Bridgeport, including the manufacturing facilities, for a consideration of $50,000.00.
John Fray himself held at least six patents for bit braces, and while these were produced, none of his patented braces are particularly common. One example, that of his Sept. 16, 1879 patent for a sleeve chuck (#219574, Pearson B) is shown below. This deviates somewhat from the patent drawing. The chuck is essentially a split one, with a captive grooved slug in it providing purchase for the internal threaded chuck shell. The jaws are simply extensions of the split shaft and are closed by the chuck shell. This brace has lost the pewter rings on its sweep handle, and is marked with the patent date on the chuck shell--unusual for Fray braces.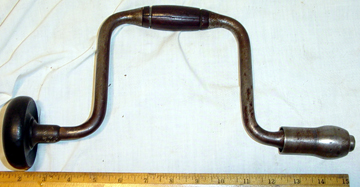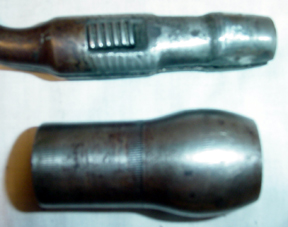 The Fray company went on to produce a full line of braces, including sleeve, ratcheting, whimble, corner braces and brace drills in a variety of styles, sizes, and finishes. Some examples of these products are shown below.

Fray #70 Corner Ratchet Bit Brace with Interlocking Jaw Chuck
Fray #85-B Ratchet Brace Fray #103 Ratchet Brace

Fray Drill Brace marked with Patent #225682 of S.A. Bostwick (NS)

Fray No. 66 Ratchet Brace with Interlocking Jaw Chuck. 6 inch Sweep

Fray #100 Corner Bit Brace
Recently a seventh John S. Fray patent has come to my attention that was not included in Ron Pearson's definitive Directory of American Brace Patents; nor is it included in the updated list of brace patents maintained by the Mid-West Tool Collectors Assn on their web site. This is patent number 957760 for a "Tool-chuck" filed on Oct 20, 1909, and awarded to Fray on May 10, 1910. It apparently has been overlooked, and seems to be a relatively rare patented brace to find.
This patent formed the basis for the ratchet braces numbered 109, 129, 149, and 169 that appear in the 1911 Fray catalog that is readily available as a reprint. The brace that I own is an example of the No. 129 brace (12" sweep) that is marked, No. H129 on the upper bow. The chuck is nearly identical to that described in the patent, and is also faithfully reproduced in the catalog on page 14. The brace has a spinning knurled chuck shell that runs on ball bearings and is designed to put great pressure on the spring loaded jaws. It works nicely. This was a rugged brace designed for tough jobs, and was not made in the smaller 6 and 10 inch sweeps. The brace is not marked with a patent date, nor is the patent marked in the catalog. But both the brace and the catalog may have predated the patent award in 1910. This line of braces was by far the most expensive braces that Fray offered in the 1911 catalog, which may explain its relative rarity today.


After 1920 when the John S. Fray Company was purchased by the Stanley Rule and Level Company the stock was gradually sold off and the tooling moved to New Britain, Connecticut. For some years Stanley included certain Fray products in its catalogues. Some of the Fray stock on hand was also marked by Stanley, and these double marked braces are attractive to collectors.
Return to Brace INDEX