FELIX CHANTRELL
Felix Chantrell, of Bridgeport, Connecticut, is listed as the inventor of a single patent (No. 254,275, Feb. 28, 1882) for an adjustable socket wrench, which also apparently applied to a brace having the same adjustable mechanism. Chantrell was born in Connecticut in 1854. His father was John Cantrell, a native of France, and his mother, Eliza Cantrell, born in England. Eliza died in 1890. Both John and Eliza also lived in Bridgeport at the time of the 1880 census.
The brace is known but rare, having a Person A rarity index. The wrench is more often encountered, and was produced by Hazeltine & Chantrell, of Bridgeport. It was available in three sizes. Here is an example of the wrench: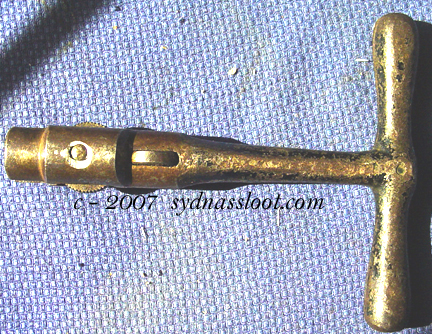 Neither of the two examples of the brace that I own are marked in any way--with manufacturer or patent--but clearly have the same adjustment mechanism, consisting of a captive knurled nut that closes the split frame of the wrench.

A look at the complete brace suggests a few similarities with that of the Spofford patent braces, also produced in Bridgeport, Conn. by the John S. Fray Co.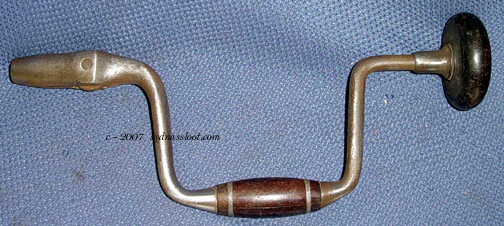 The top handle, cupped on its underside is reminiscent of the Fray braces, and of course, the wrist handle, with two rosewood halves bound by pewter rings also speaks of Fray (and of Ives braces from New Haven. The split frame at the chuck is also similar to the Fray Spofford patent products, with closure effected by the internal knurled ring, rather than the external thumb screw. A closer look at this last similarity, however, shows that the split frame is not integral, but was made by pinning a longitudinal piece below the wrist handle to the half frame of the other side.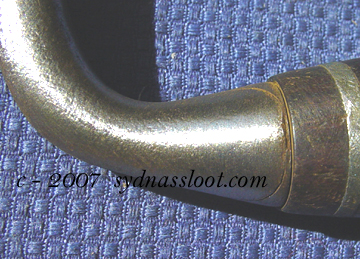 The two halves are pinned together in at least two places. This is not a feature I've noticed in any other brace, particularly the Spofford patent ones, and argues for a manufacture by another company than Fray. This technique is also quite different from the method connecting the two halves of the Chantrell patent adjustable wrench, which are joined only at the top of the handle, and the alignment is preserved with a tongue from one half that protrudes through the other.
A final distinction of this brace is that the bottom lips of the chuck end contain a curious piece of steel dovetailed into the lip on each side. Again, this is a feature I noticed only in the Chantrell brace, and argues for an independent maker.
A John Chantrell of Bridgeport, also received as many as 5 brace patents in the 1883 to 1885 time period. These patents have been studied by George Langford. In the absence of further information, I assume that this John Chantrell was the father of Felix Chantrell.
Return to Brace INDEX